---
Biographical Sketches


HERBERT C. HOOVER
Thirty-First President • 1929-33

Herbert C. Hoover

An international mining engineer-businessman who had been Secretary of Commerce and won acclaim humanitarian efforts during World War I, Chief Executive Hoover faced the severe domestic problems created by a worldwide economic depression. Usually frowning on direct Federal relief projects, which he argued would endanger private initiative, he made unprecedented use of governmental powers to achieve economic recovery. Nevertheless, worsening depression doomed his reelection. In retirement, he continued his humanitarian endeavors, and chaired commissions that formulated major Government reorganizations.
The second child in a family of three, Hoover was born in 1874 at West Branch, Iowa. Six years later, his father, a blacksmith and farm implement salesman, died. For 8 months beginning in the summer of 1881, Herbert stayed with an uncle, Laban Miles, an Indian agent in Indian Territory (present Oklahoma). In 1884 Mrs. Hoover, a Quaker minister, died, and relatives agreed to raise her orphaned children separately. Herbert briefly resided with an uncle, Allen Hoover, who farmed nearby.
In 1885 Herbert moved to Newberg, Oreg., to live with another uncle, Dr. Henry J. Minthorn, a physician and businessman. Hoover briefly attended public school and then enrolled in the first class of the Pacific Academy (present George Fox College), where his uncle was superintendent. Three years later, in 1888, Hoover graduated. That same year, the Minthorns moved to Salem, Oreg. Herbert served as office boy for his uncle, who ran a land business; learned to type and keep books; and attended business school at night.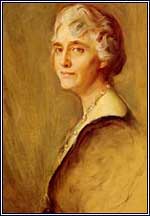 Lou Hoover
In 1891, when Hoover was not quite 17 years of age, he matriculated at the newly opened Stanford University, Palo Alto, Calif. While specializing in geology and mining engineering, he managed the baseball and football teams and held various part-time jobs, including two summers of work for the U.S. Geological Survey. In 1895 he was awarded a B.A. degree, and spent the summer again working for the survey.
That fall, unable to procure a professional position, Hoover worked as a miner in Nevada. Early the following year, he went to San Francisco and managed to find a job as an aide in a mining engineering firm. In 1897 his employers, who were impressed with his technical competence and budding executive skills, recommended him for a position in western Australia. In 1897-98 he managed gold extraction operations there for a British firm.
Hoover next arranged to enter the employ of the Chinese Government as a mining engineer-consultant. Before going to China, early in 1899 he returned to California and married his university sweetheart, Lou Henry, daughter of a Monterey, Calif., banker, who was to bear two sons. The couple sailed the next day. For the next two decades, they were to share an adventurous life on several continents.
In 1900, during China's Boxer Rebellion, directed primarily against foreigners, Hoover received his first taste of war and relief activities. He helped Tientsin's besieged defenders by taking charge of barricade construction and the distribution of food and water. He subsequently worked briefly for a private concern in China. In 1901 he headed back to the United States.
During the early 1900's, Hoover gained international renown for developing mines and managing other industrial projects in at least a dozen countries. From 1901 until 1908 he held a junior partnership in the firm he had earlier worked for in Australia, and from the latter year until 1914 operated his own mining consultant business. By the age of 40 he was a multimillionaire.
Upon the outbreak of World War I in 1914, Hoover, who was then visiting England, at the request of the U.S. Ambassador voluntarily headed the American Relief Committee (1914-15), which helped Americans stranded in Europe by the war. To distribute food, clothing, and medicine to war-ravaged Belgian and French civilians, he directed the Commission for Relief in Belgium (1915-18), and arranged with Allied and German officials to distribute these supplies on both sides of the lines.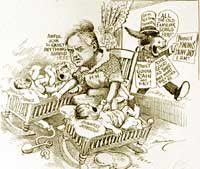 The Hoover administration was beset with many problems, foremost of which was the economic depression. (Cartoon by Clifford K. Berryman, in the Washington Star, 1930, Library of Congress.)
When the United States entered the war in 1917, President Wilson called Hoover home to manage the Food Administration (1914-19). He increased production and, in order to allocate American food surpluses to Europe, persuaded the public to cut consumption through voluntary rationing, known as "Hooverizing."
After the fighting ended, Hoover attended the Paris Peace Conference (1919) as an economic adviser to the U.S. delegation, and once again oversaw relief and reconstruction efforts in many nations, at first through official aid programs and later through voluntary agencies. These efforts were notable in Central and Eastern Europe, including the Soviet Union.
While Hoover was spending much of his time in Europe, in 1919-21, his wife supervised construction of a home near the Stanford campus. He had been appointed to its board of trustees in 1912, and was to maintain a lifelong interest in its affairs. His collection of wartime documents and other archival materials became the basis of the school's Hoover Institution on War, Revolution, and Peace.
Hoover's unselfish services in Europe endeared him to both parties, but in 1919 he committed himself to the Republicans. The next year, at the national convention he received a few votes for the Presidential nomination. He next served as Secretary of Commerce (1921-28) in the Harding and Coolidge administrations.
In 1928, after Coolidge refused to seek renomination, the national convention nominated Hoover for President on the first ballot. Pledging to continue prosperity and enforce prohibition, he competed against Democrat Alfred E. Smith, the first Roman Catholic candidate chosen by a major party. In a decisive victory that carried him into his first public elective office, Hoover carried much of the traditionally Democratic South. He was the first Chief Executive born west of the Mississippi and the first elected from California.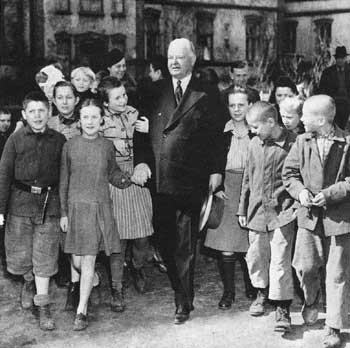 Hoover was a dedicated humanitarian throughout his life. Polish youngsters greet him in 1946 during his post-World War II survey of Europe as Chairman of President Truman's famine emergency committee. (National Archives.)
Hoover immediately called a special session of Congress to deal with tariff revision and the economic hardships that had been plaguing farmers for a decade. To guard home markets from foreign competition, Congress passed and Hoover unhappily signed the highly protective Hawley-Smoot Tariff (1930). Rejecting farm subsidies, instead in 1929 he convinced Congress to establish the Federal Farm Board. It sought to encourage price stabilization through agricultural cooperatives, the purchase by Government corporations of various produce, and the enhancement of marketing efficiency.
Hoover soon faced a far graver crisis—an economic depression. In 1929 the Wall Street stock market crashed, and the economy quickly collapsed. To prevent further decline, Hoover called on labor to hold down wages and on industry to maintain payrolls as well as production. Along with calling on Congress to balance the Federal budget, he urged it to enact a tax cut and make larger allocations for public building programs.
By 1931 the continuance of international economic distress had intensified the situation in the United States. As a way to ease European ills, Hoover through diplomatic channels arranged for a 1-year moratorium on the payment of reparations and inter-Allied war debts.
A proponent of individualism and self-reliance, Hoover argued that massive Federal public doles would undermine the country's moral fiber. He believed that relief for the indigent and unemployed should mainly come from volunteer charities and State and local governments. As the crisis worsened, he and Congress undertook a broad Federal program to stimulate business recovery. They established the Reconstruction Finance Corporation (1932) to grant loans to financial institutions and businesses, set up a home loan bank system, awarded funds to States and localities for relief and public works, authorized the Federal Reserve System to make loans to businesses and industrial concerns, and fostered governmental economy.
Despite these measures, Congress, especially after heavy Democratic gains in 1930, disparaged Hoover's leadership, and many people blamed him personally for the deepening of the depression. He was also criticized for his forceful dispersal of the 1932 "Bonus Army" of unemployed military veterans who encamped in Washington, D.C., and demanded immediate payment of compensation for their wartime service.
Foreign affairs captured less public attention during the Hoover era than the domestic. He sent a delegation to discuss arms reduction at the London Naval Conference (1930), and continued to advance disarmament proposals during the remainder of his term. Secretary of State Henry L. Stimson denounced Japanese intervention in Manchuria as a flagrant breach of the traditional Open Door policy and various treaties. As President-elect, Hoover journeyed to South America to herald a "Good Neighbor" policy with Latin America. As evidence of this, in office he withdrew U.S. Marines from Nicaragua.
In 1932 Hoover was renominated, but met ignominious defeat at the hands of Democrat Franklin D. Roosevelt. The next year, Hoover retired from the Presidency. From 1933 until 1944, he maintained his Palo Alto home, but after his wife's death in the latter year he permanently lived in New York City, which since 1934 had served as his second residence.
During his long and active retirement, Hoover wrote extensively on history and politics, including his memoirs. President Truman summoned Hoover in 1946 to coordinate post-World War II relief planning. During the Truman and Eisenhower administrations, he chaired bipartisan Federal study commissions to improve the efficiency of the Executive Branch. He also participated in several civic organizations, and received numerous awards, medals, and honorary degrees. He died in 1964 at New York City.
---
http://www.cr.nps.gov/history/online_books/presidents/bio31.htm
Last Updated: 22-Jan-2004