---
Biographical Sketches


JAMES A. GARFIELD
Twentieth President • 1881

James A. Garfield

The second President to be assassinated, Garfield died only a few months after his term had begun. Yet, within that short time, his assaults on political patronage and Post Office corruption promised a vigorous administration. But his death ended his hopes of reuniting the Republican Party, reforming the civil service, and fighting inflation. En route to the Presidency, he had surmounted poverty, and made notable achievements as educator, orator, soldier, and U.S. Representative.
Of New England ancestry, Garfield was born in 1831 at Orange Township in Cuyahoga County, Ohio. His father, a canal worker turned farmer who had already sired four children, died before Garfield was 2 years old and left his widow impoverished. She and her offspring continued to work the farm. James, however attended elementary school during the winter months. As a teenager, he drove boat teams on the Ohio and Erie Canal, and dreamed of a life at sea. But the farthest he traveled, in 1848, was to Pittsburgh. That same year, he returned home to recuperate from an illness.
In the spring of 1849, Garfield matriculated at Geauga Academy, a denominational institution in Chester, Ohio, and that fall and winter taught at a district school, after which he continued at Geauga. In 1851 he entered Western Reserve Eclectic Institute (Hiram College after 1867) at nearby Hiram. For 3 years, he studied and taught at the institute, instructed on the elementary level, and held various odd jobs. Saving sufficient money, he then enrolled at Williams College, in Williamstown, Mass., as a junior. He excelled in the classics and public speaking and learned German.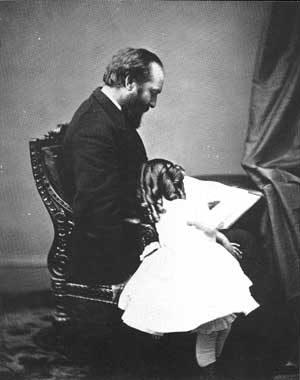 Representative Garfield and his daughter Mary ("Molly") a few years before he assumed the Presidency. (Library of Congress, Mathew B. Brady or assistant.)
After graduating in 1856, Garfield rejoined the faculty at Western Reserve. The prestige of an eastern college degree contributed to his elevation in 1857 to the presidency of the institute, whose staff consisted of five teachers. In addition, he became an accomplished lay preacher-evangelist. In 1858 he married childhood friend Lucretia Rudolph, who subsequently bore five sons and two daughters.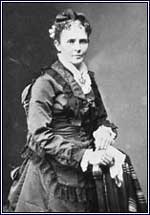 Lucretia Garfield
Garfield soon received local acclaim in a debate with a pre-Darwin evolutionary theorist and made a statewide lecture tour on the subject. In 1859, as a Republican, he won a seat in the State senate (1860-61). He also studied enough law to be admitted to the bar a year or so later, and set up practice in Hiram.
During the secession crisis, Garfield, a rapidly emerging State leader of his party, advocated coercion to assure the continuity of the Union. Upon the outbreak of the war in 1861, he was commissioned in the Ohio Volunteer Infantry, becoming a lieutenant colonel and then colonel. In January 1862, commanding a brigade, he won a minor victory—a rare Union success at the time—at Middle Creek, Ky. As a result, at the youthful age of 31 he became a brigadier general, but before long illness forced him to take leave.
Meantime, the Republicans in his home district had nominated the absent general for the U.S. House of Representatives. Nevertheless, after his election in 1862, he made good his campaign promise to return to the battlefield. Early the next year, he was appointed as chief of staff in Gen. William Rosecrans' Army of the Cumberland, then in middle Tennessee. With the support of Garfield but the disapproval of many other officers, Rosecrans made plans to drive Gen. Braxton Bragg's forces out of the State. Although this goal was achieved, the failure of the second phase of the Union offensive at Chickamauga, Ga., resulted in the discrediting of Rosecrans. Nevertheless, Garfield gained credit for his courageous leadership and won promotion to the rank of major general.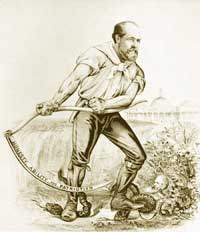 Garfield "cuts a swath" to the White House in this 1880 campaign poster. (Lithograph, 1880, by Currier & Ives, Library of Congress.)
In late 1863 Garfield resigned from the Army to take his seat in the U.S. House of Representatives, to which he was to be reelected eight times and occupy until 1880. Early in his congressional career, Garfield's belief in a stern Reconstruction policy and conservative economic attitude sometimes led him to disagree with President Lincoln's policies. Yet he supported his renomination and deeply mourned his assassination. In its wake, he dissuaded a vindictive mob in New York City, where he was visiting, from burning the offices of a Democratic newspaper.
Along with James G. Blaine, Garfield came to be a major ally of Radical Republican leader Thaddeus Stevens. Garfield, reflecting his party's position, staunchly rejected the inflationary "green back" program for the issuance of paper money and advocated deflationary "sound-money" policies. On the other hand, he was lukewarm in his advocacy of the party's protective tariff program.
After Stevens died in 1868, Garfield and Blaine captained House Republicans during the stormy and scandal-ridden Grant administration. Garfield was peripherally involved in the Credit Mobilier as well as in a lesser charge of corruption with a construction contractor, but he emerged relatively untainted.
After Blaine's election to the Senate in 1876, Garfield became the House Minority Leader. When the disputed Presidential election of that year came to the Congress, he helped frame the legislation for and served on the commission that settled the issue of disputed electoral votes. As a result, Hayes, whom he had campaigned for, went to the White House.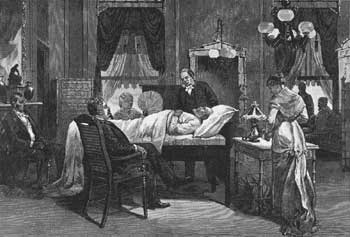 Felled by an assassin's bullet, President Garfield lies stricken in the White House. He later died at Elberon, New Jersey. (Engraving, after a drawing by William A. Rogers, in Harper's Weekly, July 23, 1881, Library of Congress.)
In 1880 the Republican-controlled Ohio legislature elected Garfield to the U.S. Senate, but he never served there because he soon won his party's Presidential nomination—by a circuitous route. After the convention hopelessly deadlocked over three candidates, Garfield triumphed as a "dark horse" on the 36th ballot.
Despite attempts to appease the party's "Stalwart" wing with the choice of Chester A. Arthur for Vice President, the Republicans remained disunited against Gen. Winfield S. Hancock and eked out only a narrow victory. Garfield conducted a good share of the campaign from the "front porch" of his Lawnfield estate in Mentor, Ohio.
In hopes of reuniting his party, Garfield appointed a Cabinet representing various Republican factions. But harmony did not prevail because he clashed repeatedly with the New York-based Stalwarts on political appointments and patronage at the New York City Customs House. To compound the problem, his Postmaster General soon discovered that Republicans in his department were engaged in extensive corruption. Certain contractors had been awarded rural delivery (star) routes on the basis of favoritism, and had reaped unjust gains. Over the objections of implicated politicians, Garfield backed his appointee's well-publicized investigation. His bold actions on such matters won the acclaim of reform leaders.
During the few months he was in office, Garfield announced to England his desire to revise the Clayton-Bulwer Treaty of 1850, and his Secretary of State, Blaine, called a conference of American republics to be held in Washington in 1882. This meeting did not take place as scheduled partially because of the President's assassination.
On July 2, 1881, when vacation-bound Garfield arrived at Washington's Baltimore and Potomac Railroad Station, a disgruntled officeseeker shot the President twice in the back. Undergoing numerous medical treatments, including Alexander Graham Bell's attempts to find the bullet with his newly invented induction balance electrical device, Garfield lingered on for more than 2 months, at first in the White House and then at a seaside retreat in Elberon, N.J. He died there on September 19.
---
http://www.cr.nps.gov/history/online_books/presidents/bio20.htm
Last Updated: 22-Jan-2004