---
Biographical Sketches


ABRAHAM LINCOLN
Sixteenth President • 1861-65

Abraham Lincoln

Although less famous and politically experienced than his leading rivals for the Presidency, Lincoln demonstrated remarkable maturity and statesmanship in the office and immeasurably broadened its scope. Unwaveringly devoted to preservation of the Union, he led the North through a long, fratricidal war with the Confederacy—the most perilous days the country has ever faced. Once victory was imminent, he adopted a conciliatory approach toward the South. But his assassination on the eve of peace, the first of a U.S. President, ushered in the recriminatory Reconstruction Era.
Born near present Hodgenville, Ky., in 1809, Lincoln was the first President whose birthplace was west of the Appalachians. His parents, already progenitors of a daughter named Sarah, had both come to Kentucky from Virginia as children. The father was a humble but ambitious farmer-carpenter. In 1816, when Abraham was 7 years old, after relocation to another nearby farm and a series of land-title disputes, the family moved to Indiana and settled near present Gentryville. Two years later, Mrs. Lincoln succumbed during an epidemic. The next year, her erstwhile husband traveled back to Elizabethtown, Ky., where he married a widow with three children, and returned to Indiana. Abraham's stepmother treated him and Sarah kindly.
Lincoln's 14 years in Indiana were formative ones. Determined to avoid the hardships of frontier life in the future, he read as many books as he could find time for after he had finished the farm chores or his work as a handyman. Altogether he managed to obtain less than a year of formal education. Occasionally he visited neighboring counties on family business, and in 1828-29 worked on a flatboat that journeyed down the Ohio and Mississippi to New Orleans. About that same time, he became interested in law, probably began its study, and attended court sessions.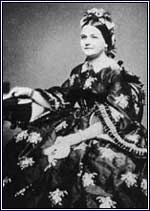 Mary Lincoln
In 1830, some 2 years after Lincoln's sister Sarah died in childbirth, the family moved to Macon County, Ill. The next year, the 22-year-old Lincoln left home. He made another flatboat trip to New Orleans, and later in the year took positions as a clerk in a general store and millhand at New Salem, Ill. He continued to read voraciously and study law. In 1832 he served briefly in the State militia. Although he experienced no combat, as a private and for a short period as a captain he campaigned in northern Illinois and southern Wisconsin during the Black Hawk War.
That same year, back in New Salem, Lincoln, an admirer of Henry Clay, unsuccessfully ran as a Whig for a seat in the lower house of the State legislature. Before the year was out, he and a friend formed a partnership and operated a store for a short time, while he continued to study law. The business foundered, but he eventually paid off the debts. In 1833-36 he served as postmaster of New Salem; and in 1834-36, based on nighttime study of the subject, performed surveying jobs in the region.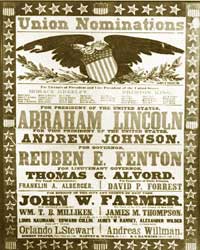 New York campaign poster in 1864. (Library of Congress.)
Lincoln won a seat in the legislature in 1834 and began the serious study of law. He served until 1841 and in time took over legislative leadership of his party. Meanwhile, in 1837, the year after he was admitted to the bar, he had changed his residence from New Salem to Springfield, to which the capital moved in 1839 from Vandalia.
His position on slavery, like that of his party, was ambivalent. Although he deemed it unjust, he contended that abolitionist agitation tended to increase its evils; he held that the Federal Government could not constitutionally interfere with slavery in any State but could abolish it in the District of Columbia, especially if the residents so requested.
While a legislator, Lincoln prospered as an attorney and circuit lawyer. In 1842, the year after he left the legislature and concentrated on his practice and politics, he married socially prominent Mary Todd of Lexington, Ky. They were to have four sons, only one of whom, the eldest, Robert Todd, reached maturity. In 1844 Lincoln purchased a residence in Springfield that he occupied, except during congressional service, until he became President in 1861.
Lincoln was elected in 1846 to the U.S. House of Representatives, where he was the only Whig among the seven Members from heavily Democratic Illinois. His antagonism toward President Polk's expansionist policies and his querulous attitude on the constitutionality of the Mexican War shocked many of his constituents. He consistently favored the exclusion of slavery from the territory ceded by Mexico, but opposed Federal interference with it where it already existed. He announced he would not seek reelection in 1848 and became an early booster of Whig Presidential candidate Zachary Taylor.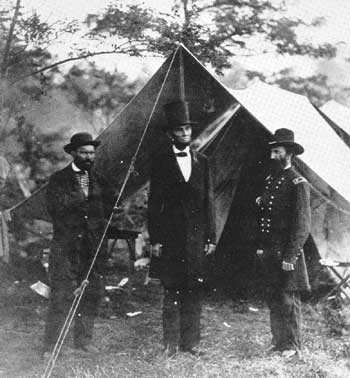 Lincoln, accompanied by a detective (left), meets with Gen. Lew Wallace at Antietam in September 1862. (Library of Congress, Mathew B. Brady.)
Lincoln left Congress in 1849. Disappointed when Taylor did not appoint him to the position he sought as commissioner of the General Land Office, he rejected a proffered Federal post in Oregon Territory and resumed his legal activities in Illinois. Touring his judicial circuit in the central part of the State and practicing before Federal and State courts, he became a leading lawyer. His reaction to the Kansas-Nebraska Act, which in effect opened up the Louisiana Purchase area to slavery, brought him back again into the legislature in 1854, but he soon resigned to seek election to the U.S. Senate. This effort failed.
In 1856 Lincoln joined the Republican Party, a coalition of antislavery groups that had been organized 2 years earlier, and that year ranked second in its balloting for the Vice-Presidential nomination. While campaigning strenuously for Presidential candidate John C. Fremont, he enhanced his reputation in his own State and became a national leader of his party. In 1857 he attacked Illinois Democratic Senator Stephen A. Douglas for his defensive position on the Dred Scott decision, and criticized the institution of slavery.
In 1858, during his campaign for the Senate seat of incumbent Douglas, Lincoln gained nationwide recognition in a series of debates around the State. He denounced Douglas' doctrine of popular sovereignty as the answer to the extension of slavery into the Territories, and emerged as a spokesman for moderate Republicans. Lincoln lost the election in the legislature, though by only a close margin.
Nevertheless, Lincoln had drawn countrywide attention that aided him in obtaining the 1860 Presidential nomination because many in his party were seeking a moderate who could carry the West. Further enhancing his position and bolstering his prestige vis-a-vis his main opponent, William H. Seward, was a headline-generating speech he delivered a few months before the convention at New York City's Cooper Union. The subject was the attitude of the signers of the Constitution toward the extension of slavery. In this speech and subsequently in his Presidential campaign, he favored the exclusion of slavery from the Territories, but urged conciliation with the South, and, rejecting either secessionist or abolitionist extremism, denounced efforts to destroy the Union.
Lincoln won a clear majority of the electoral votes, all from the free States, but received a plurality of less than 40 percent of the popular vote over his three opponents—Northern Democrat Douglas, Southern Democrat John C. Breckinridge, and Constitutional Unionist John Bell.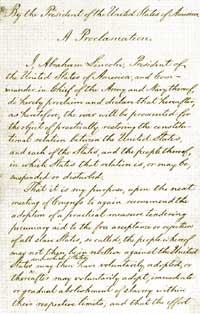 First page of the Emancipation Proclamation. (January 1, 1863), in Lincoln's hand. (National Archives.)
The new President inherited a tense situation, which Buchanan had been unable to resolve. The Southern States, convinced that Lincoln would destroy them economically and politically, had begun seceding. The Federal garrison at Fort Sumter, S.C., was beleaguered, and the Confederates already held many other Federal installations in the South. Yet in his inaugural address the President was conciliatory, though firm, toward the South. Maintaining that secession was illegal, he was determined to enforce national laws and protect Government property in the South. The Civil War erupted on April 12, 1861, when the Confederates opened fire on Fort Sumter.
Blending statesmanship and political acumen, Lincoln provided dynamic leadership to the North and assumed unprecedented Presidential power. To still critics of the war or the Government and sympathizers with the Confederacy, he sometimes resorted to extra-constitutional measures, which he justified by the national emergency. Although the tragedy of the conflict weighed heavily on him, as it stretched out year after year and casualty lists mounted, he tried with his speeches and public statements to bolster public morale. Until he found consistently effective generals such as Grant, he took an active part in formulating overall military strategy and conducting individual campaigns.
Lincoln was unable to silence either the abolitionists, some of whom sought an all-out war on slavery as well as unconditional surrender and occupation of the Confederacy, or the Copperheads and other defeatists, who demanded a negotiated peace. Nor was he able to correct inefficiencies in the War Department or obtain the full cooperation of certain Democratic Governors. Yet early in the war he deterred several of the Border States from joining the Confederacy. Throughout the conflict he adroitly controlled his Cabinet, made up of a contentious and personally ambitious but able group of men, three of whom had contested with him for the 1860 Presidential nomination. His issuance of the Emancipation Proclamation, which declared the freedom of slaves in areas still in rebellion, won sympathy for the Union abroad and strengthened northern morale.
Lincoln's foreign policy, shaped by the requirements of the home front, was guided by his erstwhile opponent Seward, whom he had named Secretary of State. The administration succeeded in substantially isolating the Confederacy diplomatically and in counteracting European opinion favorable to the South, especially in Great Britain and France. European intervention in Latin America, however, particularly that of the French in Mexico, could not be countered during the war.
For purposes of the election of 1864, the Republicans, in an appeal to Democrats and Unionists of all stripes, reconstituted themselves into the National Union Party. They renominated Lincoln and, as his Vice President, chose Andrew Johnson, a pro-Union Democrat from Tennessee. While military victories were auguring the end of hostilities, the voters reelected Lincoln over a general he had relieved 2 years earlier, George B. McClellan.
In his second inaugural address, Lincoln addressed the problem that he expected to be central to his next term: reconciliation of the North and South once the war was over. Guided by a philosophy of "malice toward none, with charity for all," as expressed in that address, he outlined a moderate Reconstruction program for the South.
But Lincoln did not live long enough to put it into effect. On April 14, 1865, only 5 days after Lee's surrender at Appomattox, a bullet struck him down while he was enjoying a play at Ford's Theatre, in Washington, and he died the next morning.
---
http://www.cr.nps.gov/history/online_books/presidents/bio16.htm
Last Updated: 22-Jan-2004