---
Biographical Sketches


MILLARD FILLMORE
Thirteenth President • 1850-53

Millard Fillmore

Fillmore, who succeeded to the Presidency on the death of Taylor, inherited the controversy over the extension of slavery into the Southwest that had divided his predecessor and Congress. Fillmore's conciliatory policies spurred passage of the Compromise of 1850. Although this proposal was unpopular with many elements in both the South and North and represented only a temporary and uneasy sectional truce, it helped delay the outbreak of civil war. Fillmore also made notable achievements in foreign affairs, particularly in Latin America and the Far East.
Fillmore's beginnings were humble. The first son and second child in a family of nine, he enjoyed few advantages in his youth. He was born in 1800 at Cayuga County, in the Finger Lakes region on the central New York frontier, shortly after his parents had moved there from Vermont. He received only limited primary education at local schools, and worked on his father's farm. In his mid-teens he served as an apprentice for a short time in the cloth trade and apparently worked in a store for awhile.
When Fillmore was about 18 years of age, he became acquainted with a young teacher, Abigail Powers, who tutored him. He soon also started to read law with a county judge, and instructed in a rural school. His family moved west to the East Aurora area, near Buffalo, N.Y., about 1819, and Millard followed them, probably 2 years later. He continued his legal study in Buffalo, and was admitted to the bar in 1823. Three years later, he married Abigail; they subsequently had a son and a daughter. The year they wed, the couple built a home in East Aurora. He, as well as his wife, taught there, and he practiced law.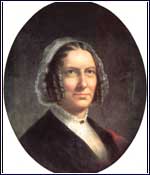 Abigail Fillmore
Fillmore began his political career by helping to organize the Antimasonic Party, and as a protege of party boss Thurlow Weed entered the State legislature (1829-31). In 1830 he moved to Buffalo, his home for the rest of his life except while serving in Congress and as President. During the years 1833-35 and 1837-43 he sat in the U.S. House of Representatives, and eventually chaired the powerful Ways and Means Committee. In 1834 he followed Weed into the Whig Party and became a leader of its antislavery wing. In 1843 he returned to Buffalo and practiced law.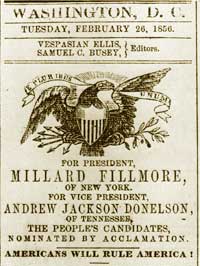 When Fillmore sought to regain the Presidency in 1856 on the American, or "Know Nothing" Party ticket, he was paired with Andrew Jackson's nephew. Here a party newspaper announces their candidacy. (Daily American Organ, Washington, D.C., Feb. 26, 1856, Library of Congress.)
In 1844 Fillmore unsuccessfully sought his party's nomination for Vice President and was narrowly defeated in a bid for the governorship of New York. In 1847, however, he won election as State comptroller. The next year, thanks largely to the backing of the Clay faction, he was elected as Vice President under Taylor. Although the latter kept him isolated from policymaking and patronage, he judiciously chaired the increasingly vociferous debate over slavery in the Senate.
But, when Taylor died in July 1850, Fillmore inherited responsibility for dealing with the conflict. Civil war seemed imminent, but the absence of Taylor's opposition to passage of Clay's Compromise of 1850, which had created a deadlock with a divided Congress, brought a new climate. Fillmore, who still personally disliked slavery but was determined to be President of the whole country, threw his power behind the compromise. He quickly replaced all Cabinet members, and joined forces with the moderate Whigs who favored the compromise. It was an omnibus of bills that sought a middle ground between northern abolitionists and southern secessionists to save the Union.
The congressional deadlock was broken when Democratic Senator Stephen A. Douglas of Illinois took over management of the compromise from the aged, ill, and exhausted Clay. This bipartisan approach, coupled with Douglas' wise division of the compromise into a series of separate bills, eased its path.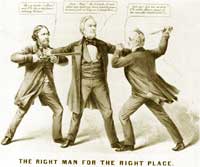 Unlike his opponents, abolitionist Republican Fremont (left) and pro-South Democrat Buchanan (right), during the 1856 campaign Fillmore failed to take a stand on the major issue of the day, the extension of slavery. Because of the division of his "Know Nothing" supporters on that issue, he was soundly defeated. (Lithograph, 1856, by Nathaniel Currier, Library of Congress.)
Passed piecemeal in September 1850, the compromise admitted California as a free State; founded Utah and New Mexico Territories, whose residents were to choose whether or not slavery would prevail in their State constitutions; settled the Texas-New Mexico boundary dispute; abolished the slave trade (but not slavery) in the District of Columbia; and created a strong Federal fugitive slave law.
Although supporters of the compromise congratulated themselves that they had avoided civil strife, their work was fragile. The measure was a compromise on an issue that could not be compromised and did not settle the slavery controversy. Some provisions offended the North; others, the South. The conflict had not been solved; it would burst forth again.
Congress and the Nation calmed, Fillmore turned his attention to other matters. He aided Senator Douglas' efforts to obtain Federal grants for railroad construction. Fillmore also exerted initiative in foreign relations. Trying to overcome the loss of good will in Latin America generated by the Mexican War, he restored diplomatic peace with Mexico; facilitated the negotiations whereby an American company undertook to dig a transoceanic canal through Nicaragua; and sought to deter filibusterers, including Americans, who tried to overthrow the Spanish colonial government in Cuba.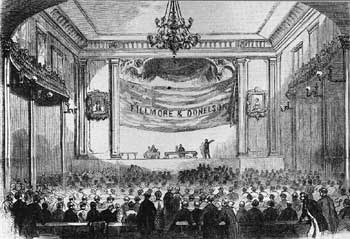 Despite the drubbing of the Fillmore-Donelson ticket in 1856, the American National Council, the governing body of the American Party, met at Louisville the next June to map future strategy. (Engraving, in Harper's Weekly, June 27, 1857, Library of Congress.)
In 1852 Fillmore dispatched Commodore Matthew C. Perry to Japan to establish trade and diplomatic relations, a mission he was to complete during the Pierce administration. Fillmore also refused to yield to entreaties of the King of Hawaii, threatened by French domination, for U.S. annexation. But, pledged to protect Hawaii's independence, Fillmore warned Napoleon III to abandon his imperialistic plans there.
Northern Whigs, angered by Fillmore's support of the Compromise of 1850, prevailed at the contentious convention of 1852 and blocked his renomination. The next year, his wife caught cold at Pierce's inauguration and died in Washington within weeks. The bereaved widower went back to Buffalo. His sorrow soon increased when his daughter died.
Despite the disintegration of the Whig Party, Fillmore refused to join the Republicans. Instead, in 1856, while on an extensive tour of Europe and the Mideast, he accepted the Presidential nomination of the American, or "Know Nothing," Party. He campaigned more on the need for national unity than on the party's anti-Catholic and anti-foreign platform, but met overwhelming defeat. He never again sought public office, but later backed the Democratic Party.
In 1858 Fillmore remarried, to widow Caroline Carmichael McIntosh; she was to be childless. They honeymooned in Europe. Back in Buffalo, Fillmore continued to play a leading role in its philanthropic, civic, and cultural life. During the Civil War, he was loyal to the Union, but opposed many of Lincoln's policies and his reelection. After Lincoln's assassination, Fillmore supported Johnson's conciliatory stance toward the South. In 1866 Fillmore again visited Europe. Reaching the age of 74, he lived until 1874 and was buried in Buffalo's Forest Lawn Cemetery.
---
http://www.cr.nps.gov/history/online_books/presidents/bio13.htm
Last Updated: 22-Jan-2004