Alaska Subsistence

---

A National Park Service Management History

Chapter 7:
THE FEDERAL ASSUMPTION PROCESS, 1989-1993
---
A. The Alaska Supreme Court Rules in the McDowell Case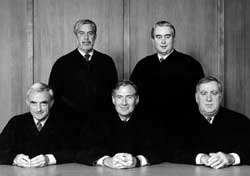 In December 1989, the Alaska Supreme Court effectively struck down the state's subsistence management system in the McDowell case. Members of the court that year (left to right) included justices Jay A. Rabinowitz, Allen Compton, Warren W. Matthews (chief), Daniel Moore, and Edmund Burke. Alaska Court System
On Friday, December 22, 1989, the Alaska Supreme Court handed down a decision that had major, long-term consequences on how subsistence activities would be managed. In a 4-1 vote, the Court ruled that the legislature's 1986 subsistence law violated the Alaska constitution because its rural preference provisions illegally discriminated against residents who lived in non-rural areas. [1]
The case on which the court ruled was popularly known as McDowell vs. the State of Alaska; it was filed by Sam E. McDowell (an Anchorage businessman, former Board of Game member, and sport-hunting advocate) and three other men. [2] Their suit had originally been filed in 1983 to challenge the second-tier subsistence priority inherent in the state's 1978 subsistence statute. After its initial filing, the complaint was amended several times in order "to expand on the original theory and add challenges to various regulations," and in October 1984, the Superior Court granted some motions and deferred others. The Supreme Court's February 1985 Madison v. Alaska Department of Fish and Game decision forced the case into the judicial background for more than a year, but the Alaska Legislature's passage of a new subsistence statute in May 1986 shed new light on the lawsuit.
Shortly afterward, the plaintiffs again amended their complaint and decided to challenge the new law on constitutional grounds. Their primary argument was that the 1986 law, with its rural-preference provision, ran contrary to Article VIII of the Alaska Constitution, which guaranteed equal access for all Alaska residents to fish and wildlife resources. Based on that premise, McDowell and the other plaintiffs felt that the 1986 act
unfairly excludes some urban residents who have lived a subsistence lifestyle and desire to continue to do so, while needlessly including numerous rural residents who have not engaged in subsistence hunting and fishing. ... [The plaintiffs] instead suggest that the right to subsistence should depend upon individual needs and traditions, not on one's place of residence. [3]
The case was first heard by Third Judicial District of the Superior Court in Anchorage. After hearing the case, Judge Douglas J. Serdahely in January 1988 ruled in favor of the defendants. But backed by attorney Cheri Jacobus, the plaintiffs appealed the decision to the Alaska Supreme Court. That court heard arguments in the case in April 1989 and considered the case over the next several months. [4] Based on the arguments presented, and the justices' inquiries, those familiar with the issue predicted that the Supreme Court would reverse Serdahely's decision. [5]
In its decision the court, as expected, largely sided with the McDowell and the other appellants. It acknowledged that a purpose of the 1986 act was "to ensure that those Alaskans who need to engage in subsistence hunting and fishing ... are able to do so," but it also noted that "the means used to accomplish this purpose are extremely crude." It therefore advised that "a classification scheme employing individual characteristics would be less invasive of the article VIII open access values and much more apt to accomplish the purpose of the statute than the urban-rural criterion." The court noted that its decision "does not mean that everyone can engage in subsistence hunting or fishing. ... We hold only that the residency criterion used in the 1986 act ... is unconstitutional." [6] The Supreme Court remanded the case back to Superior Court Judge Serdahely "to decide how the present system [should be] dismantled."
Neither federal nor state officials were entirely certain how to respond to the court's verdict. A U.S. Fish and Wildlife Service spokesman, Bruce Batten, noted that his agency had always preferred a unified state management system, and he further noted that "we don't have all the resources we would need" if federal assumption became necessary. But both he and others recognized that a federal assumption of fish and game management on federal lands was looming, and Batten bravely stated that "we're willing and ready to take on that responsibility if it comes our way." Sam McDowell, weighing in on the issue, said that the state should take the federal government to court over its right to manage subsistence resources. But state fish and game officials were left in a quandary; according to ADF&G official Dan Timm, "I guess everything stays in place until we get some Superior Court directions." Speculation arose that the two-tiered system used during the 1985 hunting season might be re-introduced. But no one was sure. John Trent, another ADF&G official, said that "It's gonna take some work. It'll certainly require some time. It will make the Board of Game meeting real interesting in the spring." [7]
Because the Supreme Court decision nullified the legality of rural subsistence hunts, and because no substitute system was available, the ADF&G's short-term reaction was to close the state's presently-open, road-accessible subsistence hunts, including the Fortymile caribou hunts and the Dot Lake moose hunt. Moreover, the popular Nelchina caribou hunt along the Glenn and Denali highways was not able to begin as scheduled on January 1, 1990. But just two weeks after the Court's decision, on January 5, Chief Justice Warren Matthews postponed the effective date of the state Supreme Court's decision until July 1. State officials (as well as subsistence hunters) were relieved by the announcement. Alaska governor Steve Cowper noted that because of Matthews's ruling, "we no longer have to cancel authorized subsistence hunts," and the delay also gave the state precious time to figure out a new subsistence management system. But McDowell and the other court plaintiffs, backed by attorney Wayne Anthony Ross, decried the decision; arguing that the state subsistence-management system remained on questionable ground, Ross attempted to have Matthews's postponement rescinded. Two weeks later, Jacobus filed a brief to that effect with the high court; the justices, however, let the postponement stand. [8]
Alaskans, given five months to act before the deadline that Matthews had set, were left with three options. Some (such as the plaintiffs in the McDowell suit) were convinced that the state should sue the federal government over the legality of Title VIII of ANILCA. Others felt that Senator Ted Stevens and the remainder of the Alaska Congressional delegation should attempt to revise Title VIII by removing its rural preference provisions. Many, however, felt that the most feasible alternative would be to pass a bill in the Alaska legislature that would be both legal under the Alaska constitution and in compliance with Title VIII. (Stevens himself said that "it will be better for Alaskans to resolve this issue themselves rather than get Congress in the act ... the group back [in Congress] is not friendly to Alaska as far as Alaskans using federal lands in Alaska.") As a result, great efforts were expended during the first half of 1990 to craft a revised subsistence bill that would be acceptable to Natives as well as non-Natives and to both rural and urban residents. [9]
During the Second Session of the Sixteenth Alaska Legislature, many proposals for a new, improved subsistence bill were brought forth. Early bills—offering a subsistence priority to low-income people, one based on a permit system—had little chance of becoming law for either legal or political reasons. [10] But a more workable solution emerged after a March 1 hearing; a day later, Governor Steve Cowper submitted a bill (HJR 88) proposing a constitutional amendment that guaranteed subsistence rights to Alaska's rural residents. Cowper's proposal, submitted at the behest of the Alaska Federation of Natives and first aired at a March 10 statewide teleconference, steered a middle course because it promised, to a large degree, to revive the old (pre-McDowell) subsistence law. Protestors soon formed, however, on both sides of Cowper's proposal. On one side were the sport hunters and fishermen, such as McDowell and Bondurant, who felt that the plan discriminated against people in cities. And on the other side were certain Native Alaskans, who felt that the proposal didn't go far enough in guaranteeing a Native preference. Cowper and others recognized the difficulty in attaining consensus on the matter, particularly because his proposal demanded a two-thirds affirmative vote from both the House and Senate before it could be submitted to Alaska's voters in the November 1990 election. [11] As the legislative session wore on, several hearings on the topic were held, and subsistence remained a high-profile issue. [12] But a proposal calling for a constitutional amendment failed in a House vote (the 20-20 vote took place on May 8), and no other comprehensive subsistence proposals were addressed by either state legislative body before the session ended on May 9. Recognizing the high stakes involved, Cowper knew that a special session offered the only possibility of breaking the impasse. [13]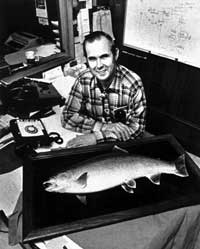 Sam McDowell, an Anchorage sport-hunting advocate and former game board member, was just one of four appellants in McDowell v. State of Alaska. ADN
During the period in which the legislature had been attempting to cobble together a new subsistence law, federal employees who were concerned about subsistence issues had not been idle. Recognizing that the federal government might need to assume subsistence management on July 1, representatives of the National Park Service, U.S. Forest Service, the Fish and Wildlife Service, Bureau of Land Management, and Bureau of Indian affairs formed an ad hoc planning group and began meeting on a periodic basis. On April 13, the U.S. Fish and Wildlife Service—acting as the lead agency administering federal subsistence matters—announced its "Intention to Propose Interim Rules Implementing Title VIII of ANILCA" in the Federal Register. The public was given until May 14 to comment on how the regulations should be drafted. [14] During this same period, four federal officials—John Hiscock of the NPS, Bill Knauer of the F&WS, Ken Thompson of the USFS, and DOI solicitor Keith Goltz—prepared a series of proposed temporary regulations. Their work was completed by June 1; a week later, the regulations appeared in the Federal Register. The new regulations brought on another public comment period (though it was limited to ten days owing to the looming deadline), and between June 8 and June 18 public meetings were held in Anchorage, Fairbanks, Juneau, and Bethel. [15] Because of the publicity that surrounded this process, a wide range of Alaskans—federal and state administrative officials, members of the state legislature, and residents of every other stripe—knew what specific actions the federal government would take if no new subsistence law was in place by July 1.
While federal bureaucrats prepared for a possible assumption of subsistence fish and game management on federal lands, many Alaskans attempted to head off what they perceived to be a federal intrusion into an area best managed by state government. Governor Steve Cowper, who had spearheaded the constitutional-amendment idea during the regular legislative session, let it be known that he had a "secret plan to solve Alaska's subsistence crisis." He called legislators back to Juneau for a special session, to begin on June 25; and on the eve of that session he released the details of his plan (HB 599 and SB 553), which was similar to the proposal he had floated several months earlier. Arliss Sturgulewski (R-Anchorage), a state senator who was running for governor that year, weighed in with her own plan (SB 554 and SJR 87), which also espoused a constitutional amendment; in addition, a package of three bills that omitted any mention of a constitutional change (HB 600, HB 601, and SB 555) was espoused by various House and Senate Republicans. [16]
Soon after the session began, a compromise emerged that combined ideas from Cowper's and Sturgulewski's proposals. That finely-worded bill, SJR 86, omitted any specific reference to a rural preference; instead, it relied on a vaguely-worded reference to "community or area characteristics, geography, customary and traditional use, direct dependence, local residence or the availability of alternative resources" as a basis for preference in times of scarcity. Two days after the plan emerged, on June 28, the Senate passed the bill calling for a constitutional amendment by a 14-6 vote—the bare minimum necessary for passage. A day later, however, the House was able to muster no better than a 20-20 vote on SJR 86 (27 votes being needed for passage in the 40-member chamber), and during the remainder of the special session the most favorable vote—on July 3—was 23-17. On July 8, the 14-day session adjourned with no resolution to the subsistence stalemate. For the time being at least, the federal government was managing Alaska's fish and game on federal lands for subsistence purposes. [17]
---
---
alaska_subsistence/chap7.htm
Last Updated: 14-Mar-2003