Kenai Fjords

---

A Stern and Rock-Bound Coast: Historic Resource Study

Chapter 6:
LIVING OFF THE LAND AND SEA
---

Traditional Use Activities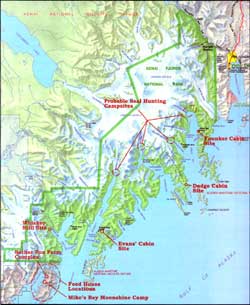 Map 6-1. Historic Sites-Fox Farming/Homesteading. (click on image for an enlargement in a new window)
As Chapters 3 and 4 have noted, a combination of factors–disease, the lure of commercial fishing, and the encouragement of the Russian Orthodox clergy–resulted in the elimination of permanent human settlement from the present-day park during the 1880s.
Human usage of the area, however, continued. Natives from English Bay [] and Port Graham traveled east of Gore Point where they hunted and trapped for subsistence purposes in various portions of the present park. Nuka Island was a favored location for fall hunting camps, while winter and spring hunting camps were established at sites in Nuka, Yalik, and Aialik bays. Natives frequently traveled along the entire coastline of the present-day park; Natives from Tatitlek (on the eastern side of Prince William Sound) as well as Seward and English Bay met at the hunting camps; in other instances, English Bay residents traveled to Seward to meet other hunters. [2]
The hunters left many evidences of their passing. Semi-subterranean houses (barabaras) served as shelters in Nuka Bay and perhaps elsewhere as well. In the early 1900s, trappers primarily used steel leg-hold traps. Several traditional methods were also used: a stone trap was used to take weasel and mink, and a log trap was used on otters and other larger animals. [3]
Non-Natives recorded the evidence of past trapping activities. As Josephine Tuerck (later Josephine Sather), who with her husband settled on Nuka Island in 1921, noted,
When we first came here we found all sorts of old contraptions set up in the trails and close to dens, their purpose having been to catch land otters. On the trails of the mainland and the nearby islands were decayed death-falls by the hundreds. We found little box-like houses built with sticks, in which to set steel traps for minks; all manner of spring poles; plenty of other evidence of the ingenuity of man in his effort to outwit every living thing that walked on legs.... Everything pointed to the cleverness of our predecessors on Nuka Island.
She and her husband did not trap during their first several years on the island, but in 1925, Pete and Josephine Sather set some traps for land otters on the "rocks and little islands" near Nuka Island. Their trapping thereafter, however, does not appear to have been either widespread or long lasting. [4]
Other non-Natives engaged in trapping as well. Mary Barry, the author of a multi-volume history of Seward, provides one indication of the extent of that activity:
In December 1924, Joe Schulte and Heinie Berger, pioneers of Valdez, arrived in Seward on their gasboat Arcturus while on a trapping trip. Schulte ... stayed in Seward while Berger and Captain Louis Clark took the boat to the vicinity of Nuka Bay for the trapping season. Schulte, Berger and Clark continued to go in and out of Seward that winter on trapping expeditions. [5]
During the same period, John Colberg of Seldovia and perhaps other area residents trapped up and down the southern Kenai coastline; Colberg himself trapped as far away as Rugged Island in Resurrection Bay. [6]
Hunting and trapping within the present-day park continued, to some extent, until the 1940s. It largely died out after that time. [7] Subsistence fishing, as noted below, continued for another decade because pink salmon in and around Nuka Bay supported the Sathers' fox farm. In 1951, the Fish and Wildlife Service began keeping data on Cook Inlet area subsistence fishing activities. (During the 1950s and early 1960s, it was called the "personal use fishery.") The state, when it took over management of the fisheries resource, continued the practice. Annual tabulations confirm that in the Eastern District (i.e., Resurrection Bay), subsistence fishing (primarily for red salmon) took place during most years; the most active year was 1969, when subsistence permittees caught 929 salmon. At no time from the early 1950s through the early 1970s, however, did either Territorial or State authorities receive subsistence permit applications for Outer District salmon fishing. There was, apparently, little or no interest during this period–by either Natives or non-Natives–in fishing for subsistence purposes in park waters. [8]
When the National Park Service began to get involved in the area, it issued conflicting messages about existing subsistence activities. In its December 1973 master plan, the ad hoc Alaska Planning Group stated that
at least some subsistence fishing for salmon, shellfish, and herring roe takes place in the coastal areas of the Barren, Pye, Granite and Chiswell Islands and the Aialik Peninsula [by] the people of Port Graham and English Bay. Hair seal and mountain goats are hunted in the Chiswell Islands....
But in late 1977, NPS officials declared that "there presently is no documented record of subsistence use in [the] Kenai Fjords National Park proposal, although the Interior Department is recommending the park be open to subsistence use." [9] Neither President Carter's proclamation creating Kenai Fjords National Monument in 1978, nor the Alaska National Interest Lands Conservation Act of 1980 establishing Kenai Fjords National Park, provided language that authorized hunting, trapping or other subsistence uses. Specific data concerning where trapping traditionally took place prior to the park's establishment, and usage levels within those areas, have been investigated by others [10] and will not be repeated here.
---
kefj/hrs/hrs6.htm
Last Updated: 26-Oct-2002