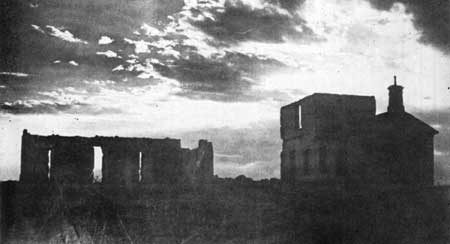 The ruined structures of old Fort Laramie breathe the spirit of the Forty-Niners and of the old West. Photographed by C. E. Humberger, 1938. Courtesy Wyoming Historical Department.
---
Foreword
---
We consider it a privilege to sponsor the publication of this booklet. Appearance of it at this time marks the one hundredth anniversary of the California Gold Rush and the coincidental founding of the famous military post of Fort Laramie. It is intended to memorialize the men—soldiers, traders, emigrants—who were actors in the immortal drama of 1849.
The author, now Historian, Region Two Office, National Park Service, Omaha, Nebraska, has been associated for several years with the Fort Laramie National Monument research project, gathering authentic data relating to structures, trails, military organization, social life and other aspects of the fort's history.
The present study is a detailed, documented, chronological account of one momentous year in the annals of Fort Laramie; it is a self-contained chapter in a projected official history of the post. It is designed with a minimum of editorial comment, to permit the contemporary actors to tell their own epic story.
A substantial number of the original documents herewith presented, taken principally from Government records and private manuscript journals, have not been published before.
ROCKY MOUNTAIN NATURE ASSOCIATION,
Estes Park, Colorado