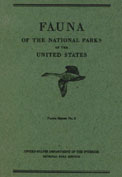 Fauna Series No. 2

---

Foreword
---
---
Fauna of the National Parks
of the United States
---
FOREWORD
The national parks of the United States have come to play a unique and major role in wildlife conservation, that of perpetuating representative examples of the primitive American wilderness. In discharge of this function, service is rendered both in the whole field of natural science and to that ever-increasing body of American and foreign travelers who wish to see the Nation's out-of-doors in an unspoiled state.
The extreme difficulty of preserving these precious wildlife remnants as to the completeness of species, numbers of each kind, and naturalness of environments, in the face of a mushrooming growth in park travel and an alarming depletion of wildlife resources throughout the land, caused former Director Horace M. Albright to order a national parks wildlife survey. The results of this investigation were published by the National Park Service in Fauna Series No. 1, A Preliminary Survey of Faunal Relations in National Parks.
Under the title Wildlife Management in the National Parks, the present volume develops the idea of wilderness-use technique which was suggested in the first survey, and reports on the actual progress which has been made in wildlife administration since the establishment of the Wildlife Division. The purpose in publishing this compendium of papers is twofold. First, it will serve as a guide to the park administrator in his effort to accomplish the purposes for which the national parks system was established. Secondly, this volume, like its predecessor and others to follow in the fauna series, is offered in the hope that the contents, dealing as they do with a subject on which there is insufficient published literature, may prove helpful to other persons or organizations interested in the development of similar programs.
ARNO B. CAMMERER,
Director, National Park Service.