EBEY'S LANDING

---

An Unbroken Historical Record: Ebey's Landing National Historical Reserve
Administrative History

PREFACE
---
In writing an administrative history, balancing the mass of information against one's desire for readability can be difficult. Inevitably, some individuals, organizations, or events do not receive the detailed attention that they deserve. There is a wellspring of community spirit within Island County, Washington, and much more could be written about local history, environmental organizations, and civic projects of all kinds. However, I tried not to deviate from my purpose, which was to provide an overview of the history of Ebey's Landing National Historical Reserve. I placed some information in the endnotes, but a great deal more is available to the interested researcher.
Researching and writing this document was fascinating and a great deal of fun. One of the pleasures of being a historian of recent events is meeting and interviewing the people who helped shape those events. I relied on a great many people to share their recollections, opinions, and editorial skills for this document, and would like to thank them here for their time and energy. All of the people who provided information for this administrative history expressed enthusiasm for the project, and generously contributed to its development. Many met with me in person and commented on drafts of this report; others also provided access to their personal and organizational files. Del Bennett, Wilbur Bishop, William Briggle, Vicki Brown, Richard Caldwell, Russell Dickenson, Roger Eelkema, Jim Ellis, Len Engle, Sydney Glover, Roberta Smith Haeger, Albert Heath, Robert Herbst, Harlan Hobbs, Richard Hoffman, Ken House, Pat Howell, Barbara James, Kathryn Erickson Jarvis, Reed Jarvis, Ned Johnston, Pat Johnston, George Knapp, Mike Lambe, Leonard Madsen, Sidney Malbon, Jack McPherson, Joan McPherson, George Morris, Richard Neeley, Cindy Orlando, Herb Pickard, Ken Pickard, Robert Pratt, Kris Ravetz, Al Sherman, Marion Smith, Ron Van Dyk, Clyde (Bud) Wagner, Floyd (Pat) Wanamaker, William J. Whalen, Stanley Willhight, and Don Wodjenski allowed me to meet with them in person or to interview them by telephone, and responded graciously to numerous follow-up visits or phone calls. Some of their interviews have been preserved in hand-written notes or on tape and can be replayed at the reserve office. In addition, my thanks to Don Cook, who loaned me a very fine scrapbook compiled by his sister, the late Jimmie Jean Cook (it is now in the manuscript collection of the University of Washington); to Whidbey News-Times reporter Mary Kay Doody, whose writings on Ebey's Landing made my job easier, and to editor Fred Obee for the loan of photographs from his files; to chief NPS historian Ed Bearss, bureau historian Barry Mackintosh, Denver Service Center historians Berle Clemensen and Pat O'Brien, who commented at length on my drafts, and historian and professor Richard White for his review of my early chapters; to National Park Service librarians Mary Ellen Bartholomew and Nancy Hori, for their research on my behalf; to former Ebey's Landing office manager Ann Fabacher, who cheerfully located information and enthusiastically reviewed my final draft; and to current office manager K'lyn Keller, for helping me get through the last stages of my work on time. I am also grateful to Rob Harbour at Ebey's Landing for sharing his remarkable insights in two long interviews and for somehow finding the time to help me prepare this manuscript; to Rick Wagner and the entire lands division of the National Park Service in Seattle for patiently enduring repeated interruptions for information on the complexities of the scenic easements in Ebey's Landing; to Stephanie Toothman, chief of the National Park Service cultural resources division in Seattle, for her interest in and support of this project; to Claudia Chalden, the office manager for the same division, for her humor and friendship and for taking good care of the project historians; to Laurin Huffman, Marsha Tolon, David Louter and Terri Taylor for their advice and suggestions, and to National Park Service regional historian Gretchen Luxenberg, who shared her superb editing skills and guided me impartially through my first administrative history. Most importantly, I would like to thank my parents Sid and Virginia Levy for a lifetime of support and encouragement.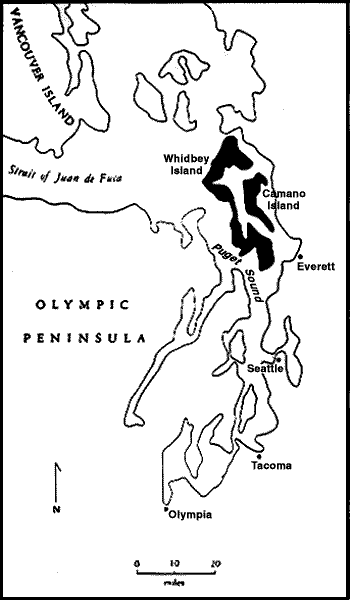 Map 1. Outline Map of Western Washington. From Land Use, Environment, and Social Change: The Shaping of Island County, Washington, by Richard White, copyright 1980, University of Washington Press. Reprinted with permission of the University of Washington Press.
---
---
adhi/preface.htm
Last Updated: 27-May-2000