Death Valley

---

Historic Resource Study
A History of Mining

SECTION IV:
INVENTORY OF HISTORIC RESOURCES--THE EAST SIDE
---
D. South Death Valley and the Ibex Hills
1. Introduction
This section of Death Valley is perhaps the most desolate region within the Monument. Dominated by the dry sink of the Amargosa River, the landscape consists mostly of sand, salt, and the low Ibex Hills. The region has always been isolated from any centers of population, however small, and the present road network completely bypasses. Two spots of vegetation, Ibex Springs and Saratoga Springs, possess practically the only signs of life within the area.
As might be expected, historic activities within this region have been centered around those two springs, which represent the only sources of water in the south valley. Saratoga Springs was known as a dependable water source by 1880, and Ibex Springs shortly thereafter. For most of the ensuring hundred years, the use of these two springs, by travelers entering or leaving the valley, has beer the only activity of note.
Small-scale mining attempts, however, have taken place. The original Ibex Mine was opened in the 1880s, and ran for a few years. A very brief niter rush swamped the south valley with prospectors in 1902, and a more prolonged rush occurred during the Bullfrog boom years. This latter rush saw the brief exploitation of several mines in the Ibex Hills, and an ill-conceived attempt by gold-mad promoters to dredge the floor of the desert. With the demise of the Bullfrog boom, the area reverted to practical desertion until the modern talc mining operators began in the 1930s. With the exception of the dormant talc mines, whose edifices dominate the physical remains in the region, very little is left with which to interpret the earlier years. Time, weather, sticky-fingered prospectors, and salvaging talc miners have combined to erase all but the most minute signs of earlier activities.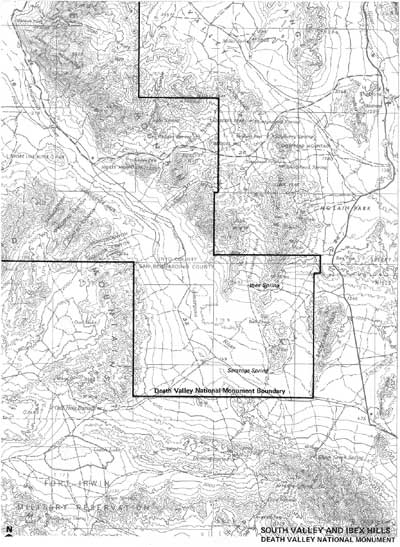 Illustration 244. Map of South Valley and Ibex Hills.
In brief, the South Valley and Ibex Hills region has seen periods of short and intermittent life, interspersed between years of practical desertion. The history of the area as a whole is not a continual tale of mans exploitation, but rather a series of brief and unconnected attempts to wrestle wealth from the barren ground. There is little left within the region with which to interpret its spotted past.
---
---
deva/hrs/section4d1.htm
Last Updated: 22-Dec-2003