Death Valley

---

Historic Resource Study
A History of Mining

SECTION III:
INVENTORY OF HISTORICAL RESOURCES THE WEST SIDE
---
D. The Valley Floor (continued)
3. Furnace Creek Inn
a) History
(1) Pacific Coast Borax Company Foresees Tourist Potential of Region
In the 1920s, as it became apparent to the Pacific Coast Borax Company that the emphasis of borax mining was swinging away from Death Valley for the present, leaving that region with a still-functioning railroad and comfortable living quarters at °Ryan, it was decided that this might be a propitious time to start encouraging tourist travel to the area in order to make some money off these still-usable facilities. Other factors, too, seemed to assure the probable success of such a venture: first, the main transcontinental railroads were now enjoying a lucrative business transporting visitors to the various national parks and other scenic attractions in the West, imbuing Tonopah & Tidewater Railroad officials with the desire to cash in on some of this trade; second, the apparent success of H.W. Eichbaum's enterprising venture at Stovepipe Wells further north was a strong indication of the enormous attraction that this seemingly-hostile but greatly romanticized area held for outsiders; and third, the delightful temperatures of the valley during the months from October to May would be a great enticement to people tired of winter's bleakness and cold winds. All these were strong incentives for initiating some sort of tourist operation that could utilize existing materials and buildings and that involved only a minimum of additional expenditure. [28]
The primary concern of the company centered around providing adequate and comfortable accommodations. It was first thought that the natural and easiest solution would be to house people at Furnace Creek Ranch, and plans were accordingly made to add ten or twelve bedrooms plus dining facilities to that place. On further thought, however, this locale seemed too remote from Ryan, and thus impractical as a tourist headquarters. And so, after lengthy consideration of such alternative locations as Ryan and Shoshone, it was finally suggested by a consultant knowledgeable in such matters, who had been imported from the Desert Inn at Palm Springs for just this purpose, that the small mound and former Indian ceremonial area at the mouth of Furnace Creek Wash would be an ideal site. Not only was a good fresh water supply available 6,000 feet up the wash at Travertine Springs, but the view up and down the valley and of the surrounding mountains was breathtaking. The architect Albert C. Martin was hired to prepare plans for a Spanish-style building, and native Panamint Indians were immediately put to work manufacturing adobe bricks for its construction. [29]
(2) Union Pacific and Santa Fe Railroads Encouraged to Promote Death Valley
In these early days of auto travel the surfaced highway east from Los Angeles ended at San Bernardino, with the branch roads to Ryan and Death Valley being so primitive and lonely that people hesitated to travel them. Taking advantage of this timidity, the Pacific Coast Borax Company extensively promoted use of its own standard-gauge Tonopah & Tidewater and narrow-gauge Death Valley railroads. The two transcontinental lines--the Union Pacific and Santa Fe--were then persuaded to promote package tours to the area during October to May. Through-Pullman service in standard sleepers would be offered between Caliente and Beatty and Los Angeles and Beatty on an every-other-day basis, and in either direction. Initially the Pullmans would be run three times weekly, with the service increased to daily runs the following year. New cars were added to the lines to handle the anticipated influx of tourists. Crucero, 220 miles east of Los Angeles in San Bernardino County, was to be the transfer point at which the Pullman cars would be dropped and switched to the T & T tracks for the ninety-six-mile run north to Death Valley Junction. From here visitors would ride the last twenty miles to Ryan via a gasoline-powered combination express and passenger railcar on the Death Valley line. At Ryan large Union Pacific seven-passenger open touring buses used in the Zion-Bryce Canyon tours during their summer season would meet the people and transport them to the Inn. It was advertised that travelers could leave Los Angeles at six o'clock in the evening and be snugly settled at Furnace Creek Inn the next morning. [30] According to the T & T's general agent, cost of the entire side trip, including Pullman fares between Crucero and Death Valley Junction, fares on the Death Valley Railroad between Death Valley Junction and Ryan and return, bus tickets, hotel accommodations for one night at Furnace Creek Inn, and meals for two days, was set at an incredible $42.
(3) Furnace Creek Inn Opens to the Public
Construction of the hotel started in September 1926, and its official opening was held with a minimum of fanfare on 1 February 1927. The structure was only partially finished, and its number of rooms and furnishings soon proved completely inadequate. A stay at the resort included side trips by motor bus to such nearby attractions as Dante's. View, the Devil's Golf Course, Furnace Creek Ranch, Harmony Borax Works, Gower Gulch, and the abandoned borate camp of (New) Ryan, which still evoked considerable interest despite the cessation, of mining activities there. At the latter place the highlight of the tour was a grand ride over the "baby-gauge" railroad, which in former years hauled borax from the now abandoned deposits to the Death Valley Railroad at (New) Ryan. Open-air cars transported fascinated visitors through tunnels, along the precipitous mountainside, and even inside some of the mines where they could actually see tools and equipment left just as they were when mining operations ended.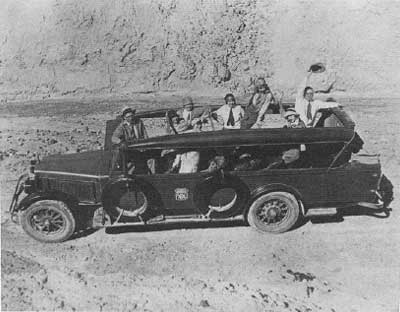 Illustration 262. Eleven-passenger Union Pacific tour bus used by Death Valley Hotel Company. View taken in Furnace Creek Wash. No date. Copy of print loaned by Stovepipe Wells Hotel, courtesy of DEVA NM.
During its first year of operation, Furnace Creek Inn consisted only of a main building housing a spacious lobby and pleasant dining room with wings on either side containing bedrooms opening onto a veranda that encircled the entire building. Day-to-day operations proceeded under the experienced and watchful eye of Miss Beulah Brown, summer manager of the Old Faithful Lodge at Yellowstone. Although the area had not yet been designated for national monument status, such an idea had earlier been proposed, so that both Horace M. Albright, then superintendent of Yellowstone NP, and Steven Mather were consulted during the formulation of plans for the promotion of tourism in the valley. The NIPS was not officially involved in operation of the Inn either, but it was tacitly agreed that it would be operated in about the same manner as other national park facilities. [31]
The tourist business increased steadily, and in the fall of 1927 five more terrace rooms on either side of the parking area had to be added. In fact, new construction at the hotel continued over the next ten years, until the present capacity of about seventy rooms was reached. The following timetable of events is roughly accurate, though sources tend to disagree on some points:
| | |
| --- | --- |
| 1927-8: | terrace rooms built |
| 1928: | ten more rooms added |
| 1929: | seventeen-room annex completed for employees who had previously been housed in tents and cabins behind the hotel swimming pool and dressing rooms installed |
| 1930: | twenty-one-room adobe two-story north wing connected to main hotel; stone unit built back of kitchen for Chinese kitchen help |
| 1934: | lower lounge and recreation room added, plus gardens and pools between terrace and north wing; twenty-five fan palms planted plus Deglet Noor palm seedlings from Ranch |
| 1935: | four-story central tower unit of twenty-four rooms erected; four ten-room units built for help up the wash from the Inn |
| 1937: | two more buildings for employees built; excavation under dining room for bar and cocktail lounge |
| 1938: | present garage built |
| 1940: | new stone service station built south of garage |
Local stone was used in some portions of the complex, the rustic stonework and retaining walls being built by a Spanish stonemason from Madrid, Steve Esteves. [32]
Electric power at the Inn was first generated by four small Kohier units, followed by installation of a 25-KW-capacity pelton wheel across the wash in 1929. As additional energy was required, a 100-hp diesel engine was installed at the Ranch with connections to the Inn, but it proved insufficient for the job. A replacement 225-hp diesel, reinforced by the pelton wheel, was then used until public utility lines were completed.
Abundant fresh water was available at Travertine Springs just up the wash from the Inn. Water was channeled in ditches to a settling box and from there conveyed 6,000 feet downhill in a 12-inch pipe to the pelton wheel at the Inn, which directed it via an open ditch through the grounds, swimming pool, and gardens, and on to the date palm grove and golf course at the Ranch. A plant now recycles up to 100,000 gallons of water a day, enabling it to be used twice. In 1936 a plant experimental station was established at the entrance to Park Village, where botanic experiments were conducted with the objective of growing native shade trees for use at desert villages and resorts. The terraced gardens at Furnace Creek Inn are a spectacular example of what a plentiful water supply and knowledge of planting techniques can accomplish in an arid region. Domestic water came from Texas Spring to the northeast and was stored in a reservoir for use by both the Ranch and Inn. [33]
Meanwhile, about 1928 the old mine buildings at Ryan east up Furnace Creek Wash were converted into the Death Valley View Hotel. In fact, the baby gauge railroad was first run in connection with its promotion, although later it became an independent tourist attraction on its own, providing visitors with an unforgettable scenic and educational experience. The boost to rail travel so greatly anticipated by opening up Death Valley to the public never materialized, as auto travel became ever more popular. On 1 December 1930 the Death Valley Railroad filed an application with the ICC for abandonment of its thirty-mile narrow-gauge system linking (New) Ryan and Death Valley Junction. No objections being made, operations ceased 15 March 1931. Its tracks were ultimately removed, and in the process one of the large trestles from the shoulder of the Greenwater Range was dismantled and its massive timbers used for beam framing in the bar at Furnace Creek Inn. [34] This termination of service left the Ryan hotel completely isolated, forcing its closure in January 1930. The Gowers, who had been running it, moved to the deserted mill town of Death Valley Junction, where they remodeled the old company dining room and dormitories into the Amargosa Hotel, open to the public. This establishment never reached the status of a resort, but did serve as a pleasant overnight rest stop. The Ryan hotel was now used only as emergency housing during crowded holiday seasons, such as Easter week of 1936. (New) Ryan was virtually uninhabited now except for a caretaker, but the baby gauge continued carrying passengers for twenty more years, being discontinued finally in the 1950s.
(4) Sightseeing in the Valley
Prior to the proclamation of Death Valley as a national monument on 11 February 1933, highways in Death Valley were constructed and maintained by the county and private interests, the borax company having been able to accomplish only occasional light work on them. With the advent of the federal government on the scene, highway work was rushed through, with much help provided by the CCC, and the approach routes were taken over by the California State Highway Commission. The state soon completed blacktopping the surface of a main route from Baker, California, via Death Valley Junction to the east boundary of the monument. It also surfaced all but thirty miles of the highway from Lone Pine to the western boundary of the monument. The NPS then hard-surfaced the road between the east and west boundaries, thereby finishing a safe and comfortable route between Baker and Lone Pine that became a heavily-used communications link between the Owens Valley and eastern Inyo County.
This improved roadwork immediately generated heavy auto travel, causing the Union Pacific to pull out of the tourist trade here in the early 1930s. For a while the borax people conducted their own sightseeing tours by means of an automobile passenger line known as the Death Valley Transportation Company, using local cars and employee drivers. This company was intended both as a motor passenger and freight service operating not only between Death Valley Junction and Furnace Creek Inn, but also along the Grapevine Canyon road to Bonnie Claire, Nevada, and on the Daylight Pass road to Beatty. Soon an agreement was concluded transferring the Death Valley Transportation Company franchise to the Hunter Clarkson Company, a Santa Fe Railroad subsidiary that previously operated cars out of Santa Fe, New Mexico. Despite their attempt to provide luxury tours, complete with a fleet of open Cadillacs driven by men attired in Western garb accompanied by women guides, the market was simply not there, and the Santa Fe also pulled out after only two seasons, convinced that the delight people experienced in driving their own cars through the beautiful scenery was a feeling too powerful to overcome. What little touring service was required was supplied thereafter by smaller private companies. [35]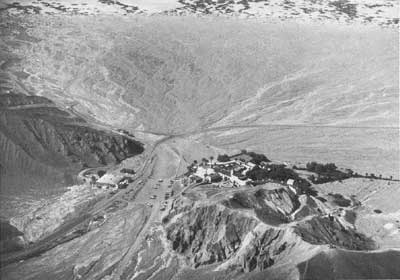 Illustration 263. Aerial view of Furnace Creek Inn. Photo courtesy of G. William Fiero, 1976.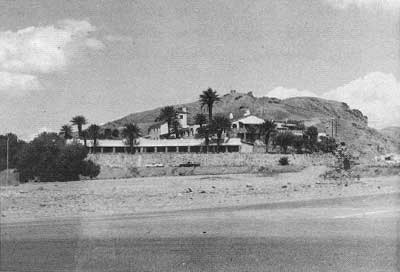 Illustration 264. Furnace Creek Inn showing stonework. Photo by Linda W. Greene, 1978.
In 1956 Fred Harvey, Inc., took over management of the Furnace Creek Inn and Ranch for the borax company; since 1969 Harvey, now an Amfac affiliate, has owned both establishments.
b) Present Status
Today the Furnace Creek Inn and Ranch are the largest resorts in Death Valley, the former being the more luxurious of the two and operating from October through May. Its sixty-seven units offer superb accommodations on the American plan, and in addition such services and recreational opportunities as beauty and barber shops, formal dining room, cocktail lounge, gift shop, golf, swimming, tennis, horseback riding, and hiking.
c) Evaluation and Recommendations
Furnace Creek Inn is the only one of the three resorts within Death Valley that has gained architectural significance by retaining most of its exterior structural integrity.
The basic layout of this Spanish-style complex has changed little, except to increase in size, since its construction in the 1920s.
The Inn ranks in importance with Stovepipe Wells in not only pioneering in the tourist industry by opening up an entire new scenic area for public enjoyment, but also shares credit for enhancing the state's reputation as a beautiful and enjoyable winter playground. The Inn's associations with the two transcontinental railroads and several touring services during its early years spread Death Valley's fame widely and finally introduced vast numbers of people to the central and southern sections of the monument.
The resort also is significant because of its connection with the borax industry and its promotion of tourist development at Ryan; it was even able for a short while to prolong that town's existence as well as that of the narrow-gauge Death Valley Railroad. Because of their interest in keeping tourist routes open to and throughout the valley, the borax employees were largely responsible for constructing and maintaining the monument roads during these years.
Due to its continuing role as a tourist facility that for over fifty years has helped promote California's attractions as a winter resort area, and because of its architectural and site integrity, the Inn appears to meet the criteria of eligibility for the National Register as being of regional significance. The resort should be marked by an interpretive sign briefly presenting the structure's history.
---
---
deva/hrs/section3d3.htm
Last Updated: 22-Dec-2003