---
Biographical Sketches


THOMAS JEFFERSON
Virginia

Thomas Jefferson

An intellectual and political titan who ranked among the most brilliant men of his time, Thomas Jefferson richly contributed to his State and Nation—as statesman, diplomat, scientist, architect, author, and educator. Graced with a wide-ranging and probing mind, he also delved into linguistics, law, art, geography, ethnology, music, agriculture, paleontology, botany, meteorology, geology, parliamentary practice, and invention.
As author of the Declaration of Independence, influential political theorist, cofounder of the Democratic-Republican Party, Virginia legislator and Governor, first U.S. Secretary of State, second Vice President, and third President, Jefferson has left an indelible impression on our political system and philosophy. Beyond that, he laid the basis for the westward expansion of the Nation; and two of his disciples, Madison and Monroe, followed him into the White House.
Like most successful politicians, however, Jefferson created his share of enemies and felt the sting of failure. Inability to reconcile his contradictory traits of idealism and pragmatism resulted in inconsistencies that rendered him vulnerable. He lacked the aggressiveness and charisma of many leaders. To compensate for his basic shyness and his deficiencies as a speaker, he mastered written expression and learned to exercise administrative power. His governorship ended ignominiously. And his vision of an agricultural America, peopled by well-educated and politically astute yeomen farmers was never to be realized. Yet none of these factors diminishes his stature or undermines his achievements.
The eldest of two sons in a family of ten, Jefferson was born in 1743 at Shadwell, a frontier plantation in Goochland (present Albemarle) County, Va. But 2 years later his father, Peter, a self-made surveyor-magistrate-planter who had married into the distinguished Randolphs, moved his family eastward to Tuckahoe Plantation, near Richmond. His reason for doing so was a promise he had made to his wife's newly deceased first cousin, William Randolph, to act as guardian of his son, Thomas Mann Randolph. Young Jefferson passed most of his boyhood in the Randolph home, beginning his elementary education with private tutors. In 1752, when he was about 9 years old, the family returned to Shadwell. His father died 5 years later and bequeathed him almost 3,000 acres.
In 1760, at the age of 17, Jefferson matriculated at the College of William and Mary, in Williamsburg. An incidental benefit was the chance to observe the operation of practical politics in the colonial capital. Jefferson graduated in 1762, studied law locally under the noted teacher George Wythe, and in 1767 was admitted to the bar.
At Shadwell, Jefferson assumed the civic responsibilities and prominence his father had enjoyed. In 1770, when fire consumed the structure, he moved to his nearby estate Monticello, where he had already begun building a home. In 1772 he married Martha Wayles Skelton, a widow. During their decade of life together, she was to bear six children, but only two daughters reached maturity.
Meanwhile, in 1769 at the age of 26, Jefferson had been elected to the House of Burgesses in Williamsburg. He was a member continuously until 1775, and alined himself with the anti-British group. Unlike his smooth-tongued confreres Patrick Henry and Richard Henry Lee, Jefferson concentrated his efforts in committee work rather than in debate. A literary stylist, he drafted many of the Revolutionary documents adopted by the House of Burgesses. His A Summary View of the Rights of British America (1774), one of the most influential essays of the era, disavowed parliamentary control of the Colonies and contended that they were tied to the King only by their own volition and recognition of mutual benefits.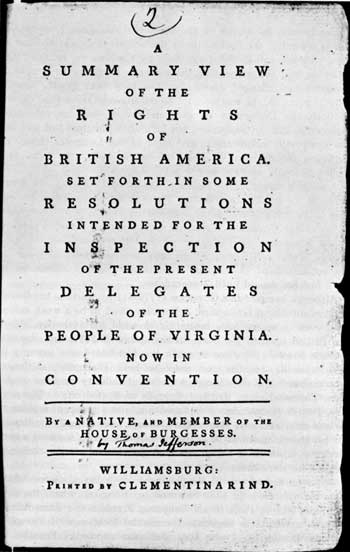 Title page of Thomas Jefferson's pamphlet A Summary View (1774),one of the earliest and most influential Revolutionary tracts. (Library of Congress.)
Jefferson utilized the same working methods in the Continental Congress (1775-76), where his decisiveness in committee contrasted markedly with his silence on the floor. His colleagues, however, rejected several of the documents he drafted his first year because of their extreme anti-British tone. But, by the time he returned the following May, after spending the winter in Virginia, the temper of Congress had changed drastically. The very next month, though only 33 years old, he was assigned to the five-man committee chosen to draft the Declaration of Independence, a task his colleagues assigned to him. In September, not long after Congress had adopted the draft with modifications and most of the Delegates signed it, Jefferson returned to Virginia—anxious to be nearer home and feeling he could make a deeper political mark there.
A notable career in the House of Delegates (1776-79), the lower house of the legislature, followed. There Jefferson took over leadership of the "progressive" party from Patrick Henry, who relinquished it to become Governor. Highlights of this service included revision of the State laws (1776-79), in which Jefferson collaborated with George Wythe and Edmund Pendleton; and authorship of a bill for the establishment of religious freedom in Virginia, introduced in 1779 but not passed until 7 years later.
Although hampered as Governor (1779-81) by wartime conditions and constitutional limitations, Jefferson proved to be a weak executive, even in emergencies hesitating to wield his authority. When the British invaded the State in the spring of 1781, the situation became chaotic. On June 3, while the legislature was meeting in Charlottesville because the redcoats held Richmond, Jefferson recommended the combining of civil and military agencies under Gen. Thomas Nelson, Jr., and virtually abdicated office. The next day, British raiders almost captured him and a group of legislators he was entertaining at Monticello. Although later formally vindicated for his abandonment of the governorship, the action fostered a conservative takeover of the government and his reputation remained clouded for some time.
Jefferson stayed out of the limelight for 2 years, during which time his wife died. In 1783 he reentered Congress, which the next year sent him to Paris to aid Benjamin Franklin and John Adams in their attempts to negotiate commercial treaties with European nations. During his 5-year stay, Jefferson succeeded Franklin as Minister to France (1785-89), gained various commercial concessions from and strengthened relations with the French, visited England and Italy, absorbed European culture, and observed the beginnings of the French Revolution.
The University of Virginia in 1826, the year of the death of founder Jefferson. (Engraving, 1826, by Benjamin Tanner, Library of Congress.)
In the years that followed, interspersed with pleasant interludes at Monticello, Jefferson filled the highest offices in the land: Secretary of State (1790-93), Vice President (1797-1801), and two-term President (1801-9). Ever averse to political strife, he occupied these positions as much out of a sense of civic and party duty as personal ambition. Aggravating normal burdens and pressures were his bitter feuds with Alexander Hamilton on most aspects of national policy, and the vindictiveness of Federalist attacks. Jefferson took considerable satisfaction, however, from his many accomplishments. Among these was the cofounding with James Madison of the Democratic-Republican Party, which in time drove the Federalists out of power.
Physically and mentally exhausted, in 1809 Jefferson retired for the final time to Monticello. He retained his health and varied interests and corresponded with and entertained statesmen, politicians, scientists, explorers, scholars, and Indian chiefs. When the pace of life grew too hectic, he found haven at Poplar Forest, a retreat near Lynchburg he had designed and built in 1806-19. His pet project during most of his last decade was founding the University of Virginia (1819), in Charlottesville.
Painfully distressing to Jefferson, however, was the woeful state of his finances. His small salary in public office, the attendant neglect of his fortune and estate, general economic conditions, and debts he inherited from his wife had taken a heavy toll. He lived more frugally than was his custom in an attempt to stave off disaster and sold off as many of his lands and slaves as he could. But when a friend defaulted on a note for a large sum, Jefferson fell hopelessly into debt and was forced to sell his library to the Government. It became the nucleus of the Library of Congress.
Jefferson died only a few hours before John Adams at the age of 83 on July 4, 1826, the fiftieth anniversary of the adoption of the Declaration of Independence. For his tombstone at Monticello, ignoring his many high offices and multitudes of other achievements, he chose three accomplishments that he wanted to be remembered for: authorship of the Declaration of Independence and the Virginia Statute for Religious Freedom and the founding of the University of Virginia.
Drawing: Oil, 1791, by Charles Willson Peale, Indpendence National Historical Park.
---
http://www.cr.nps.gov/history/online_books/declaration/bio24.htm
Last Updated: 04-Jul-2004