---
Survey of
Historic Sites and Buildings
BOXWOOD HALL
New Jersey



Location: Union County, 1073 E. Jersey Street, Elizabeth.
Jonathan Dayton resided in this home, also known as the Elias Boudinot House, from about 1795 until his death in 1824, shortly after Lafayette visited him there. Dayton had purchased the property from Boudinot, a U.S. Representative and former President of the Continental Congress, who had acquired it from Samuel Woodruff in 1772. During Boudinot's occupancy, in 1789, he and other members of a special committee appointed by the First Congress to escort George Washington to New York City for his inauguration received him at Boxwood Hall. Much earlier, Boudinot had frequently entertained Alexander Hamilton, while he was a young student.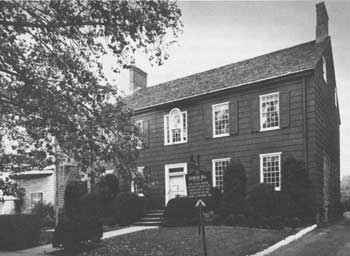 Boxwood Hall. (National Park Service (Boucher, 1975).)
Boxwood Hall was erected in the mid-18th century. In 1870 it was extensively modified. The original lateral wings were demolished, the gable roof removed, two additional stories added under the new mansard roof, and a rear service wing attached. During restoration in 1942-43, the 19th-century additions were eliminated, and the gable roof and window sashes were reconstructed. The two-story, five-bay structure has two inside exterior chimneys. Shingles cover the brick-filled frame walls. A rectangular transom surmounts the front door, and paneled shutters adorn the windows.
The main house, including the frame, interior paneling, and floors, remains largely original. A central hall divides each level into two pairs of rooms. The first floor contains the drawing room and library to the east, and the sitting and dining rooms to the west. Fireplace walls, except in one upstairs bedroom, are paneled. Pilasters and ornate mantels adorn the fireplaces. Elaborate cornices and dadoes enrich the first-floor rooms.
The Boxwood Hall Memorial Association, formed in the late 1930's when the residence was threatened with demolition, raised funds by popular subscription, purchased the property in 1940, and the following year deeded it to the State of New Jersey. The State, which has restored the residence, maintains it as a historic house museum.
---
http://www.cr.nps.gov/history/online_books/constitution/site14.htm
Last Updated: 29-Jul-2004