---
Survey of
Historic Sites and Buildings
WRIGHT'S TAVERN
Massachusetts



Location: Center of Concord on Lexington Road.
Ownership and Administration (1961). Society of the First Parish, Concord.
Significance. Wright's Tavern stood in the center of Concord. With the public meetinghouse on one side and the militia training ground on the other, it was a favorite resort of Concord's leading citizens for both business and pleasure, and thus played an important role in the transaction of the town's civil and military business. Built in 1747 by Ephraim Jones, who operated it until 1751, the tavern was managed during the portentous days of April 1775 by Amos Wright, whose name it has borne ever since. On April 19, when the courthouse bell announced the approach of Major Pitcairn's British troops, the Concord minutemen assembled at Wright's Tavern. Later, after Pitcairn's arrival in the public square, the British officers took refreshments in the tavern. As the scene of these events, the tavern has important associations with the opening military episode of the Revolution.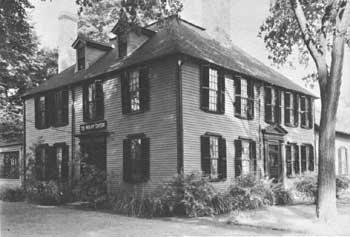 Wright's Tavern, built in 1747 at Concord, played a colorful role in events leading up to the War for Independence, and in the fighting which marked the war's first day. (National Park Service)
It also has associations with the Provincial Congress of Massachusetts Bay which met next door, in the First Parish Church, in October 1774. This congress, with John Hancock as president and Benjamin Lincoln as secretary, consisted of 300 delegates from Massachusetts towns who passed measures ending tax payments to the Crown and organizing a militia force to defy the King by arms if necessary. Wright's Tavern was used as a meeting place for committees of the Congress during the 5-day session, and also provided refreshments for the delegates.
Present Appearance (1961). With red clapboards and monitor or double hipped roof, low-studded Wright's Tavern is still in good condition. Until recently it functioned in its original role as a public house. Since the Revolution, however, it has seen many uses and was finally saved from a doubtful future by the efforts of the Society of the First Parish and the generosity of two of Concord's public-spirited citizens. [32]
---
http://www.cr.nps.gov/history/online_books/colonials-patriots/sitec21.htm
Last Updated: 09-Jan-2005