BISCAYNE

---

Biscayne National Monument
A Proposal

THE CASE FOR PRESERVATION
---
In December 1960, the upper Florida Keys in Dade County were incorporated as the City of Islandia. Included in the new city are Elliott Key Park and other publicly owned property as well as 385 tracts of land owned by 346 individuals. Proposals for causeways, deep water channels, real estate, and industrial developments, are immediate threats to natural features within the study area.
The proposed National Monument area is a combination of land and water and the terrestrial, marine and amphibious life found on and in them, much of which is rare in continental United States. The best vestiges of South Florida's tropical forest are within the proposed boundaries; some of the plants are species not found on the mainland. As mentioned previously, some of the land and water species are rare, and sorely need protection.
Although no industrial development appears to be planned for the Keys, in the proposed area, industrial construction on the mainland—an oil refinery, for example—would probably cause water and air pollution that would damage the monument area's natural values, especially its marine life. The construction and use of a deep water channel or causeway would certainly alter natural conditions, and would materially change the marine ecology.
Most significant of all the area's attributes are the clear, sparkling waters, marine life, and the submerged lands of Biscayne Bay and the Atlantic Ocean. Here in shallow water is a veritable wonderland. Corals, sponges, grasses, crabs, shellfish, starfish, and reef fishes are but a few of the life forms inhabiting this colorful underwater kingdom. The whole area is an enormous underwater nursery where reef and pelagic fish hatch and grow before venturing to the ocean.
Intimately associated with the natural features are significant outdoor recreation values. The type and quantity of public use must be compatible with preservation of natural conditions and should be governed accordingly.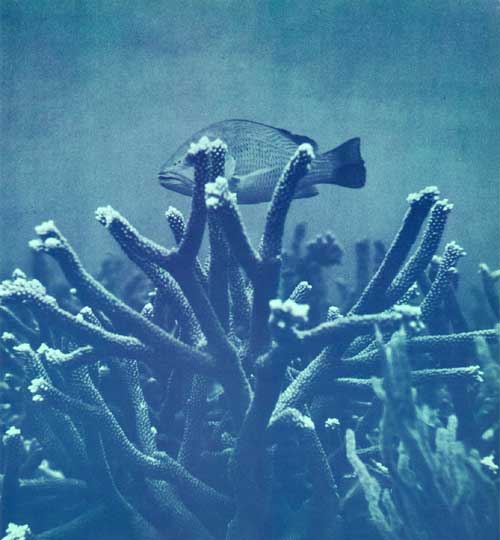 ---
---
proposal/sec6.htm
Last Updated: 17-Sep-2009