---
MENU
---
The Early Years,
1864-1918
Defining The System,
1919-1932
The New Deal Years,
1933-1941
The Poverty Years,
1942-1956
Questions of
Resource Management,
1957-1963
The Ecological Revolution,
1964-1969
Transformation and
Expansion,
1970-1980
A System Threatened,
1981-1992

Appendix:
Summaries of
Lengthy Documents
---
The Critical Documents

---

Appendix:
Summaries of Lengthy Documents
ALASKA NATIONAL INTEREST LANDS CONSERVATION ACT, 1980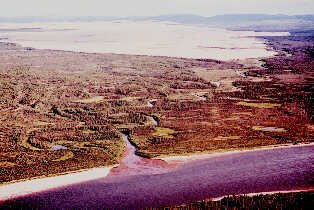 ALASKA NATIONAL INTEREST LANDS CONSERVATION ACT
December 2, 1980 (PL 96-487, 94 Stat. 2371)
In the waning days of the Carter Democratic administration, Congress acted to further protect and expand preserved areas in Alaska, many rescued from exploitation two years earlier by presidential proclamation. This complex and lengthy act defines preserved parks, forests, wilderness areas, wildlife refuges, wild and scenic rivers, and Native American corporation lands and the degrees of preservation and usage for each. It prescribes timber, fish, and wildlife protection and use by Native Americans and other citizens.
New areas for the national park system included Aniakchak National Preserve, Cape Krusenstern National Monument, Gates of the Arctic National Park and Preserve, Kenai Fjords National Park, Kobuk Valley National Park, Lake dark National Park and Preserve, Noatak National Preserve, Wrangell-St. Elias National Park and Preserve, and Yukon-Charley Rivers National Preserve. The act also added new lands to Glacier Bay National Park and Preserve, Katmai National Monument and Preserve, and Denali National Park and Preserve (renamed from Mount McKinley National Park).
New wild and scenic rivers under Park Service administration included Alagnak, Alatna, Aniakchak, Charley, Chilikadrotna, John, Kobuk, Mulchatna, Noatak, North Fork of the Koyukuk, Salmon, Tinayguk, and Tlikakila rivers. Other wild and scenic rivers are designated or expanded in wildlife refuges and in other areas.
The vast majority of acreage in the Denali, Gates of the Arctic, Glacier Bay, Katmai, Kobuk Valley, Lake dark, Noatak, and Wrangell-St. Elias units is designated wilderness.
NEXT>Clean Air Act, 1967