Five Views: An Ethnic Historic Site Survey for California
---
MENU
---

Introduction
Mexican War
Post-Conquest
1900-1940
World War II
Chicano Movement
Future

Historic Sites
Selected References
---

---

A History of Mexican Americans in California:
HISTORIC SITES
---
Ramirez Castle/Ellis House
Marysville, Yuba County
The Ramirez-Ellis House in Marysville, Yuba County, is an exceptional example of residential Gothic Revival styling in California, dating from the gold rush period. First constructed in 1851, the Ramirez-Ellis House is characterized by a central, steep, pointed gable roof, with elaborate wooden barge-boards. Pointed lancet windows accentuate the first and second facades of this two-story building, affectionately known as the "Castle." The wooden front porch is supported by split columns.
The building is constructed of brick, plastered over and scored to resemble stonework. Reportedly, the 30-inch-thick interior and exterior brick bearing walls support the second-story floor, consisting of two layers of bricks laid over sand on top of heavy, timbered planking. The exceptional strength and durability of the structure was said to be in response to Ramirez's youthful experience of growing up in a land of frequent earthquakes in South America. Lumber used in the interior of the house was said to be hardwood imported from Chile.
In the fall of 1842, Theodore Cordua obtained a lease from Captain John A. Sutter. It was on this tract of land that the City of Marysville would be located. First named New Mecklenburg by Sutter, in honor of Cordua's place of birth, the area soon became more commonly known as Cordua's ranch. On December 30, 1844, Theodore Cordua increased his holdings, obtaining a grant from the Mexican government that included about seven square leagues of land. It became known as the Honcut Rancho, after the creek that became its eastern boundary. Some time between 1844 and 1849, a former employee of Cordua's, Charles Covilland, purchased the 31,080-acre rancho.
In April 1849, Jose Manuel Ramirez and John Sampson arrived at New Mecklenburg. Ramirez was Chilean by birth, and Sampson was most likely a native of Great Britain who had been residing in Chile.
It is quite probable that they came with plans to extract gold on a large if not a semi-feudal scale, for they brought with them a following of some 30 Chilenos who were decidedly dependent and subordinate.
It was said of Ramirez that he was among the first to explore deep into the auriferous regions bordering on the Yuba and Feather rivers.
Soon after their arrival, Ramirez and Sampson were impressed by the possibilities of Mecklenburg as a supply point for the mines. In the latter part of 1849, Covilland sold three-fourths of his interest in Honcut Rancho to J. M. Ramirez, John Sampson, and Theodore Sieard. For their part, Ramirez and Sampson paid $23,300. In January 1850, the town of Marysville was laid out by the four partners.
Jose Manuel Ramirez began building his house in Marysville in 1851, completing it in 1854. Its cost was said to exceed $35,000. W. T. Ellis, who acquired the "Castle" in 1919, later described it as "one of the most interesting residences in Marysville . . . built by one of the original founders of the town. . . . Ellis also attributed the structure's ample construction to the Chilean's experiences of earthquakes in his homeland.
J. M. Ramirez's path to fortune was punctuated by difficulties brought on by his Chilean heritage. His California adventure taught him that "foreigners" must be prepared to defend themselves in the California mines. In the fall of 1849, Ramirez, John Sampson, and their party of 30 Chilean miners were driven out of the mining community of Ferry Bar near the present site of Marysville by exasperated Anglo Americans who had discovered that the "Chileans were experienced miners, and could make better wages than they." However, the "foreigners" returned under the protection of armed men "who could both speak and shoot in the English language."
Two years after completion of his opulent Marysville home, Ramirez was shot by a member of an extra-legal band of Anglo Americans when he refused to allow them to search his home. The search was in connection with a stagecoach robbery that yielded $10,000 in gold dust to the bandits. Two days later, even though Ramirez was never accused of participating in the crime, they returned to confiscate his weapons, described by a member of the party as a "perfect arsenal." Jose Ramirez survived his wounds and the hardships visited on him as a "foreigner" during California's gold rush era. His former residence still stands as a reminder of a city's birth and the personal achievement of one man caught amid the turbulence of California's early gold rush years.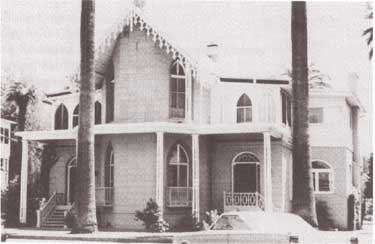 Ramirez Castle/Ellis House, Marysville, Yuba County
NEXT> Regeneracion