Wilderness by Design
Landscape Architecture and the National Park Service
by
Ethan Carr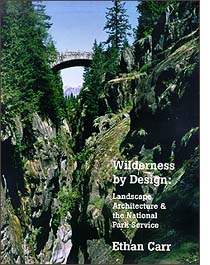 Just published by University of Nebraska Press, Wilderness by Design is an important new history of the physical development of America's national parks. This comprehensive study examines the place of our national parks in the larger context of the American park movement and in the history of planned "park development," or landscape architecture. Park planning and design practices are traced from their origins in private estate and municipal park design to their application in larger scenic reservations, particularly in Grand Canyon, Glacier, and Mount Rainier national parks.

The importance of landscape architecture to the history of national parks relates to the public's use and perception of the parks. Wilderness by Design examines the roads, trails, overlooks, and other carefully planned and designed works of landscape architecture that convey us through and mediate our experience with the most awesome wilderness areas of North America. These designed landscapes have only recently begun to command the attention of park managers and historic preservationists as significant historic resources.

The National Historic Landmark districts described in this book are the finest examples of what National Park Service landscape architects achieved in the 1920s and 1930s: the creation of a middle ground between excesses of commercialism and of exclusivity in the management of public lands. In an era of increasingly strident extremes, the historical partnership of landscape architecture and the National Park Service may yet serve as a viable precedent for preserving scenic landscapes by planning for limited recreational uses in wild areas.

Ethan Carr is a historical landscape architect at the Denver Service Center. Wilderness by Design was written for the Park Historic Structures and Cultural Landscape Program (NPS, Washington Office), as the National Historic Landmark Theme Study of National Park Service Landscape Architecture. The historic landscapes described in the book have been designated National Historic Landmarks by the Secretary of the Interior as a result of this study.
University of Nebraska Press, March 1998, 384 pp. 8 drawings, 2 maps, 45 photographs, index.
return to Useful Book about the NPS

---