Dispossessing the Wilderness:
Indian Removal and the Making of the National Parks
by
Mark David Spence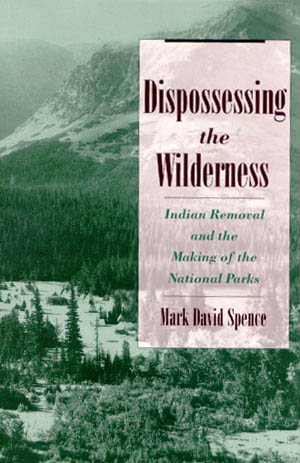 Ideas about wilderness are no more constant than the environments they describe. Yet most Americans view the landscapes preserved in national parks as timeless representations of primordial nature. While such ideas inspired the establishment of the first wilderness preserves, they continue to obscure past valuations of park environments. More particularly, the appreciation of pristine landscapes has tended to deny the rich native histories of these places. This, in turn, has only further concealed the fact that early management of America's preeminent national parks necessarily involved native dispossession.
In this groundbreaking work, Mark David Spence examines the complex origins of the national parks and the troubling consequences of the American wilderness ideal. He explores the idealization of uninhabited wilderness in the late nineteenth century and the policies of Indian removal developed at Yosemite, Yellowstone, and Glacier national parks between the 1870s and the 1930s. Concerned with the historical and cultural importance of national park areas to the people who previously inhabited them, Spence also analyzes the efforts of various American Indian tribes to maintain a connection to these places after their dispossession. The first study to place national park history within the context of the early reservation era, this book details the ways in which national parks have developed into one of the most important arenas of contention between native peoples and non-Indians in the twentieth century.
Arguing for the constructedness of nature, Spence presents powerful evidence that ideas actually shape the landscapes people call wilderness. This theoretical stance makes a vital contribution to a growing body of scholarship on the history of wilderness. Spence's rich study will interest scholars and students of environmental history, Western history, American studies, and American Indian studies, as well as native scholars, environmentalists, and members of the National Park Service.
Dispossessing the Wilderness: Indian Removal and the Making of the National Parks by Mark David Spence is published by the Oxford University Press (ISBN 0195118820) for $35.00 in hardcover.
return to Useful Book about the NPS

---