Grand Wash Cliffs Wilderness Area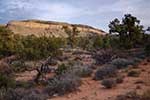 Location and Description
This remote 37,030-acre wilderness is a 12-mile long stretch of the Grand Wash Cliffs. St. George, Utah the largest town in the area (20,000 people) is 36 air miles north of the wilderness. Filled with rugged canyons, scenic escarpments, miles of towering cliffs and sandstone buttes the wilderness marks the transition zone between the Colorado Plateau and Basin and Range provinces. The cliffs are important habitat for the desert tortoise, gila monster and desert bighorn sheep. Vegetation is a mix of Mojave desert shrubs, annual grasses and pinyon-juniper woodland from colder desert country. Opportunities for finding solitude and engaging in primitive recreation activities in this beautiful but sparse land is outstanding.
Access

From St. George, the area may be reached via Interstate 15 and the Quail Hill (BLM 1069), County 101, Hobble (BLM 1032), St. George Canyon (BLM 1034), and Hidden Canyon (BLM 1003) roads. It may also be reached from Mesquite, Nevada on the Lime Kiln (County 242), Cottonwood (BLM 1027), Grand Wash (BLM 1061) and Grand Gulch (BLM 1050) roads. The Grand Canyon and Lake Mead prevent access from the south. The Interagency Information Center has a visitor map which shows wilderness areas and roads in detail.
Nonfederal Lands
Some lands south of the wilderness are not federally administered. Please respect the property of the owners and do not cross or use these lands without their permission.
Related Maps
7.5-minute Topographic: Cane Springs SE, St. George Canyon, Olaf Knolls, Last Chance
Canyon, Grand Gulch Bench, Mustang Point

Also, Arizona Strip District Visitor Map

1:100,000 BLM Surface Management: Littlefield, Mount Trumbull

Game and Fish Management Unit

13B
Last updated: April 13, 2018