Yarborough Pass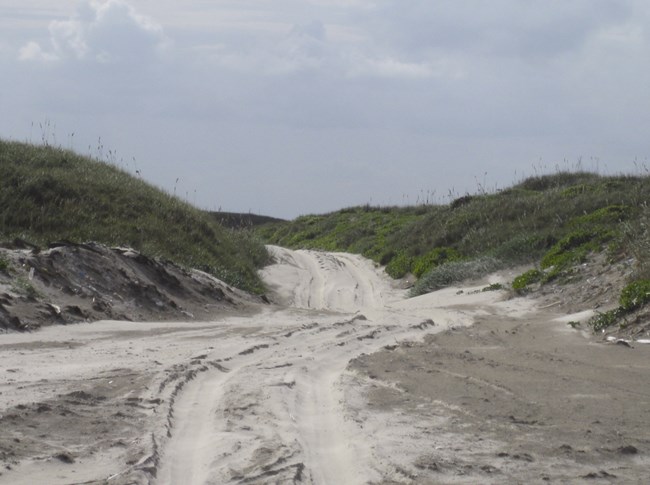 Fees: No fee is charged for use of this area, but a fee is charged to enter the park.
Description: Yarborough Pass is located in the Laguna Madre, 15.5 miles south of the visitor center. To find the campground, drive to the 15-mile marker and backtrack approximately 100 yards. Look for a notch in the foredune ridge and turn right. Access to this campground is possible only through the 4-wheel drive area of South Beach and by boating down the Laguna Madre. If driving, follow the road approximately one to two miles to the campground. Be aware that the road through the dunes is sometimes filled with exceptionally deep and soft sand in which even 4-wheel-drive vehicles may occasionally become stuck. The flooded areas may be deep. Please use caution when crossing to avoid flooding your engine or exhaust. Please call the visitor center at 361.949.8068 ahead of time for an update on weather and driving conditions.
Amenities: Primitive camping is available here with no facilities. No food, firewood, or fishing licenses are sold in the park, and the park does not have a gas station. The nearest amenities from the park entrance station on Park Road 22 are about 12 miles away, so please come prepared.
Rules:
A camping permit is required and is available at the entrance to South Beach. Look for the kiosk and fill out the form to display in your windshield.
Driving in the mudflats surrounding the campground is not permitted. The upper layers of the mud dry first, giving the appearance of solid ground, but the mud underneath is soft, enabling vehicles to become stuck. Mudflats are also important habitat for invertebrates that are an important food source for many of the park's bird species. Fines for damaging the mudflats are heavy, due to their sensitive nature.
Campfires are permitted in fully contained barbecue grills. Bonfires are not permitted anywhere in the park. Remove any burned materials (Ex., charcoal) and pack them out with you.
Do not run generators between 10:00 p.m. and 6:00 a.m.
A 14-day camping limit is in effect at all camping areas. At the end of 14 days of camping anywhere within the park, campers must vacate their site and leave the park for a minimum of 14 days before returning to camp. The total number of days spent camping in the park should not exceed 28 calendar days per year, in any combination of visits or consecutive nights.
Last updated: September 27, 2018