Visitor Center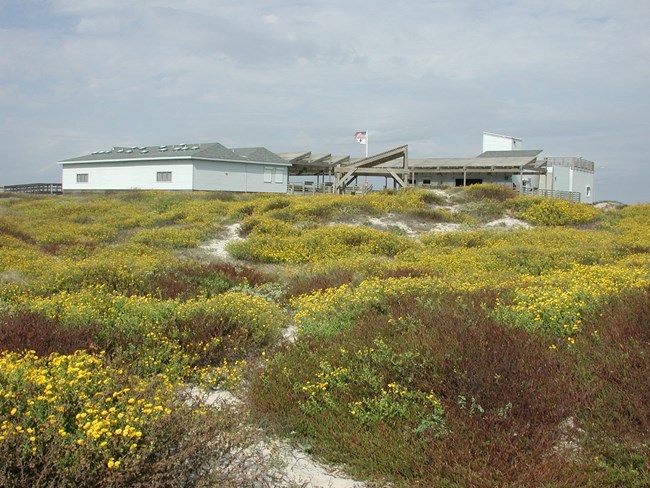 Malaquite Visitor Center
Malaquite Visitor Center offers an information desk, small museum, and bookstore/giftshop, however it is currently closed due to an HVAC replacement project. A temporary bookstore and ranger contact station is open 7 days a week from 9 a.m. - 5:00 pm across the deck in the Education Center. As you walk up the steps or use the wheelchair accessible ramp to come onto the Vistior Center deck, look for the sign directing you to the tempoary space. Beach wheelchairs are still available at no charge.
Restrooms on the deck remain open throughout the night, but are closed from 7:00-9:00 a.m. each morning for cleaning. The indoor cold-water showers adjacent to the restrooms are currently being renovated and are not availble. Cold-water outdoor showers are available 24 hours a day at the north end of the Visitor Center parking lot and along the boardwalk to the beach.
No food, firewood, or fishing licenses are sold in the park, and the park does not have a gas station. The nearest amenities from the park entrance station are about 12 miles away, so please come prepared. The park also does not have a post office or sell stamps, and cannot mail items for visitors.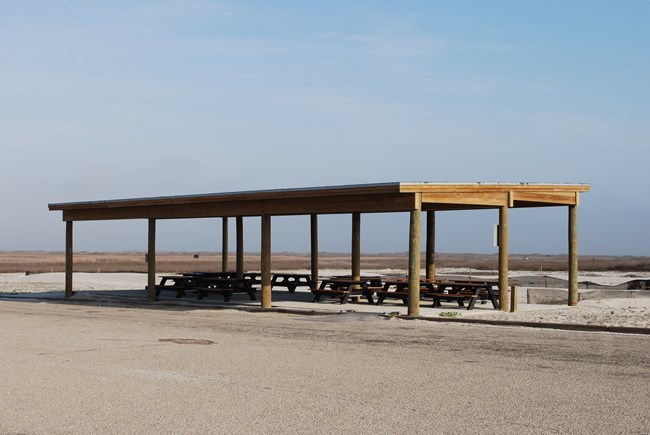 Picnic Areas
Visitor fees were used to build the new Malaquite Picnic Shelter in the corner of the parking lot of the Malaquite Visitor Center.
The deck at Malaquite features a picnic area with convenient shade structures overhead. Also, on the beach just in front of the visitor center, there are also picnic tables with shade structures overhead.

Last updated: February 9, 2022