Things To Know Before You Come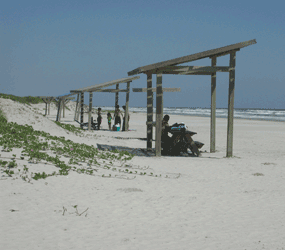 The tips below should help you to better plan your trip and know more about what to expect when you arrive. Read them carefully and if questions arise please contact the visitor center at
(361) 949-8069 for clarification.

Regulations
The Superintendent's Compendium contains all of the regulations to the park, which are written for your safety and for the benefit of the natural and cultural resources that the National Park Service protects.
Below are some regulations and tips that address frequently asked questions:
Firearms
As of February 22, 2010, a new federal law allows people who can legally possess firearms under applicable federal, state, and local laws, to legally possess firearms in this park. It is the responsibility of visitors to understand and comply with all applicable state, local, and federal firearms laws before entering this park. Note that firearms, even legally possessed ones, are prohibited in all Federal buildings.
Boating
Jet skis, air boats and kite surfing are prohibited.
For the safety of all visitors, boaters launching from Bird Island Basin must avoid the NO BOATS buoy line, which is located west of the boat ramp near the windsurfing area.
Alcoholic Beverages
Alcoholic beverages may be consumed at the park; however, open container(s) within a motor vehicle are prohibited in the park. Be safe. If you drink, don't drive. Visitors found to be driving under the influence are prosecuted to the fullest extent of the law.
Metal Detectors
Possession or use of metal detectors is prohibited in the park, in order to preserve cultural resources that are protected by the National Park Service. If you come upon a cultural artifact, please note the location of the object and notify a park ranger.
Pets
Pets must be on a leash and under physical restraint at all times. Leashed pets are permitted in all areas of the park except on the deck outside of the visitor center and on the beach immediately in front of the visitor center. These areas have large crowds and activities that are not conducive to pets. Owners must clean up after their pets.
RV Wastes
Gray and black water must be disposed of only at the dump station at the Malaquite Beach campground. This facility is available free of charge to any park visitor.
Nudity
Nudity is not permitted anywhere in the park.
Fireworks
Fireworks are prohibited.
Hazardous Materials
Hazardous materials periodically wash ashore, ranging from large barrels containing unknown substances to medical waste products. If you come upon hazardous materials, please note the location of the object and alert a park ranger. Do not approach leaking containers.
Driving
Beaches are Texas public highways. Only street legal and licensed vehicles may be driven in the park. All-Terrain Vehicles (ATV's), UTV's, Go Carts, Golf Carts, and Dune Buggies are prohibited.
Pedestrians have the right-of-way at all times and do not always watch for approaching vehicles. Driving in dunes, grasslands or mudflats is strictly prohibited. Drive with caution and strictly observe posted speed limits.
This You Tube video provides great information on beach driving as well as great information on surf fishing and general park information.
You cannot drive to South Padre Island or the Rio Grande Valley along the beach. The only way to reach these destinations is to return to Corpus Christi and follow state Highway 358 (South Padre Drive) to state Highway 44. Take Highway 44 to Robstown. Then take U.S. Highway 77 south to the Rio Grande Valley.



Last updated: February 6, 2015