North Beach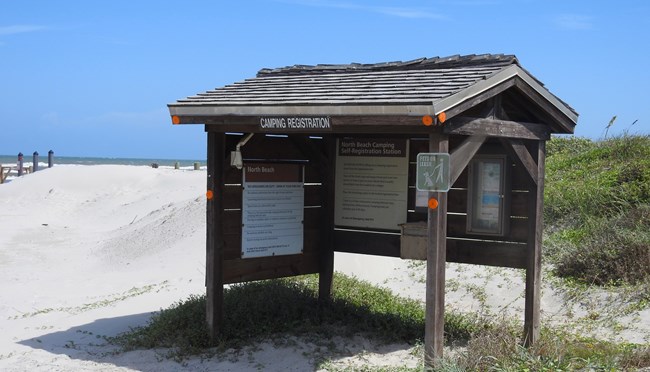 Fee: Park entrance fee required as well as a free camping permit available at the park entrance station and the self-registration kiosk at the entrance to North Beach.
Description: North Beach is the shoreline that runs along the northernmost section of the National Seashore, along the Gulf of Mexico. All camping in this area is primitive and open to RV and tent camping.
Amenities: There are no facilities and no designated sites. Flush toilets and cold-water rinse showers are available at the Malaquite Visitor Center, which are open every day and are only closed from 7:00-9:00 a.m. for cleaning. No food, firewood, or fishing licenses are sold in the park, and the park does not have a gas station. The nearest amenities from the park entrance station are about 12 miles away, so please come prepared. The park also does not have a post office or sell stamps, and cannot mail items for visitors.
Rules:
Campfires are permitted in fully contained barbecue grills or in a pit dug in the ground, unless there is a fire ban in effect. Bonfires are not permitted anywhere in the park. Remove any burned materials (Ex., charcoal) and pack them out with you.
Do not run generators between 10:00 p.m. and 6:00 a.m.
You may choose a location for camping, which is permitted from the park's northern boundary to the northern barricade of Closed Beach (about a 1 mile distance). Please park or set up camp as close to the dunes as possible in order to avoid blocking traffic.
A camping permit is required and is available at the entrance to North Beach.
The beach is open to two-wheel-drive vehicles; however, beach conditions may vary with weather conditions and campers should always use caution to avoid becoming stuck in unexpectedly deep sand. Be aware that this stretch is often used by people traveling from the park to a nearby fishing pier (out of the park) and that there is a moderate safety risk because of the traffic flow.
A 14-day camping limit is in effect at all camping areas. At the end of 14 days of camping anywhere within the park, campers must vacate their site and leave the park for a minimum of 14 days before returning to camp. The total number of days spent camping in the park should not exceed 28 calendar days per year, in any combination of visits or consecutive nights.
Last updated: September 27, 2018