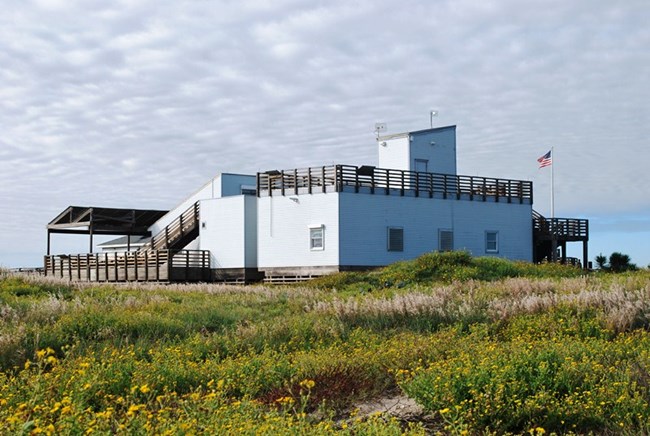 Malaquite Pavilion is the primary location for goods and services in the park. The Pavilion includes the Visitor Center, restrooms, cold-water showers, two observation decks, and an auditorium. The restrooms and cold-water showers at the Pavilion are open 24 hours per day, 7 days per week except when being cleaned from 7:00 a.m. - 9:00 a.m. daily. No pets are allowed at Malaquite Pavilion facilities. However, pet-friendly restrooms and rinse-off showers are located at the northern end of the Pavilion parking area.
Malaquite Visitor Center has an information desk, educational exhibits, and a small bookstore. Visitors can watch orientation videos, get maps and brochures, check out binoculars and beach wheelchairs, and attend ranger programs. First aid is also available here.
Please note that ice, firewood, and fishing licenses are not sold in the park. The park does not have a gas station and is about 12 miles from the nearest one, so fill up before you visit. The park does not have a post office or sell stamps, and cannot mail items for visitors.