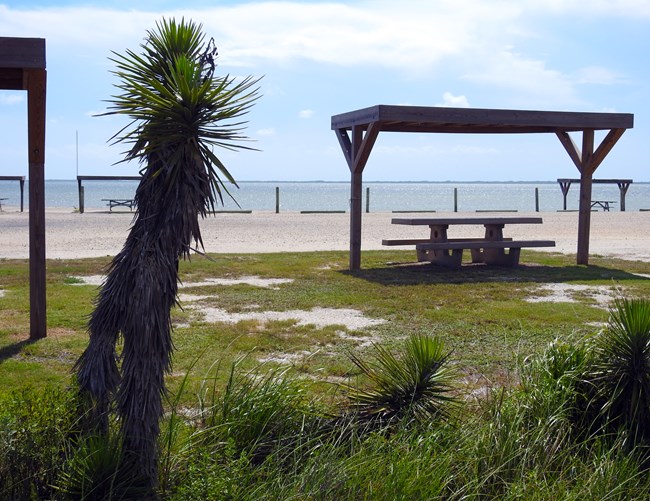 Boat Ramp Fee: $5.00/day or $30.00/year; $2.50/day or $15.00/year with the Senior Pass or Access Pass. This fee is in addition to the park entrance fee and is only required for boat launching.
Bird Island Basin Campground: Located a short distance away from the boat ramp on the waters of the Laguna Madre, these camp sites offer fantastic opportunities for windsurfing, kayaking, boating, birding and fishing. Both RV and tent camping sites are available but it is dry camping only. The park does not take reservations, so use of this area is available on a first-come, first-served basis only.
Campground Fee: $8.00/day or $4.00/day with the Senior or Access passes.



Amenities: There are chemical toilets only, but flush toilets and cold-water rinse showers are available at the Malaquite Pavilion Bathhouse (open every day and closed only from 7:00-9:00 a.m. for cleaning). No food, firewood, or fishing licenses are sold in the park, and the park does not have a gas station. The nearest amenities from the park entrance station are about 12 miles away, so please come prepared. The park also does not have a post office or sell stamps, and cannot mail items for visitors. Ice is available from 9:00 a.m. until 5:00 p.m. daily at the Malaquite Visitor Center.
Camping Rules:
Camping fees for the sites may be paid for at the campground kiosk via self service, or at the park entrance station. Both credit cards or cash are acceptable forms of payment.
Fires are permitted in fully contained grills at designated sites unless a burn ban is posted.
Please do not run generators between 10:00 p.m. and 6:00 a.m.
Please note that a 14-day camping limit is in effect at all camping areas. At the end of 14 days of camping anywhere in the park, campers must vacate their site and leave the park for a minimum of 14 days before returning to camp. The total number of days spent camping in the park should not exceed 28 calendar days per year, in any combination of visits or consecutive nights.
Check out time is 12 noon.
Bird Island Basin Windsurfing
: The
windsurfing area is ranked by Windsurfing Magazine as the best flat water sailing site in the continental USA. The park entrance fee is required to use the Bird Island Basin windsurfing area. For information on kayak and windsurfing rentals, lessons, and sales, please call Worldwinds at (361)949-7472 or visit
www.worldwinds.net
Day Use: Visitors may fish, picnic, bird watch, kayak or windsurf at Bird Island Basin at no charge provided you are not camping overnight. Parking for day users is located next to the Worldwinds concession or at the north end of the campground where a small cul-de-sac with several parking spots is located.
IMPORTANT : Please read and be aware of the Bird Island Basin Boat Ramp Area additional information & regulations by clicking the link below: