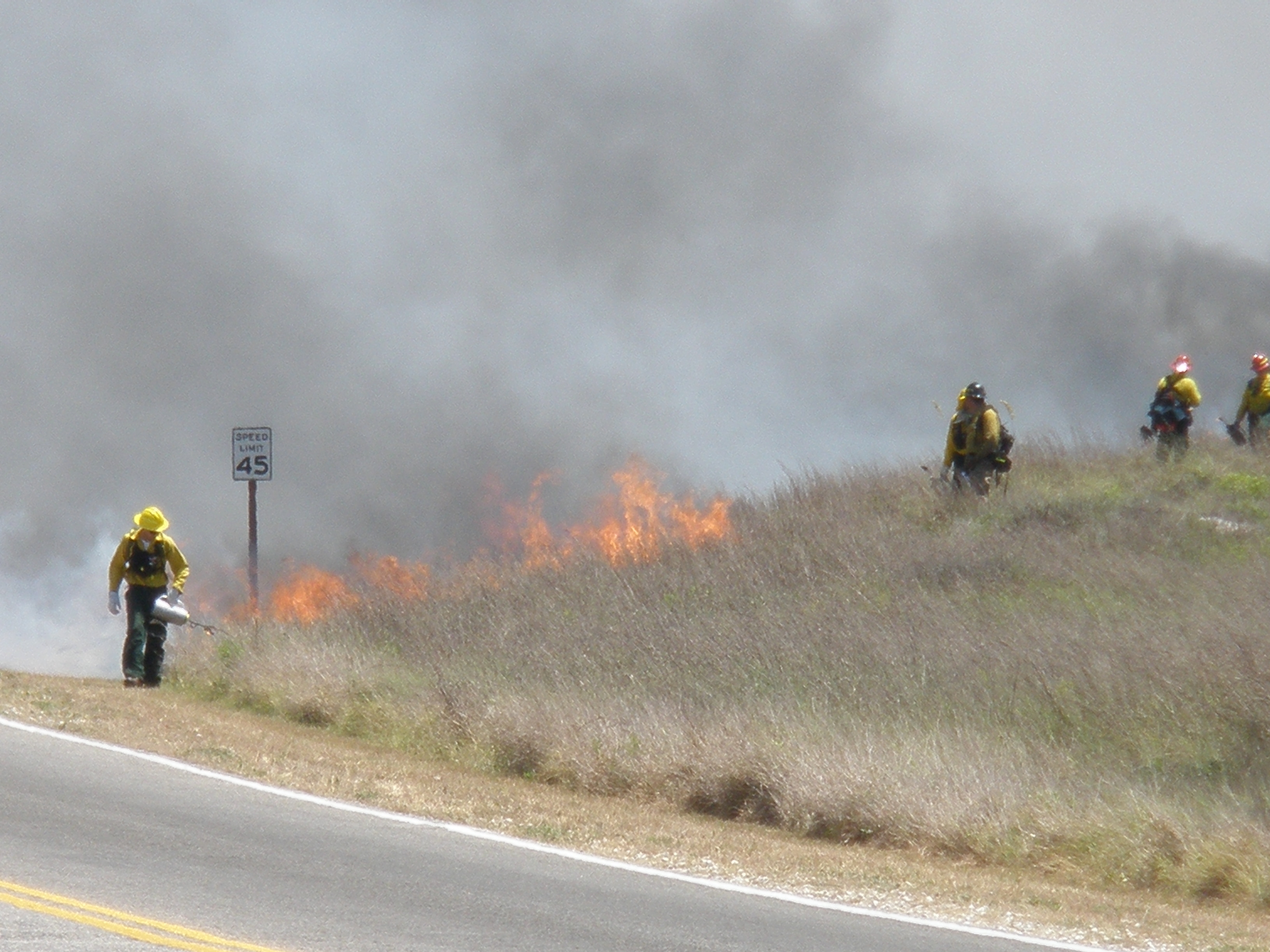 News Release Date:
June 20, 2008
Contact: Dimitra Guerrero, 361-949-8173
Contact: Juan Rodriguez, juan_rodriguez@nps.gov
Padre Island National Seashore burned approximately 400 acres today as part of a planned prescribed burn. Weather permitting; firefighters will continue the burn tomorrow, June 20, 2008. Ignitions are expected to begin around 9 a.m., and continue until approximately 6 p.m. Firefighters will work their way south from Bird Island Basin Road towards the MalaquiteVisitorCenter, on the east side of Park Road 22. 
There are approximately thirty personnel working on the burn. Partner agencies include Big Thicket National Preserve, BandelierNational Monument, SaguaroNational Park, South Texas Refuge Complex, and Aransas National Wildlife Refuge. Additional contingency resources from Flour Bluff Volunteer Fire Department, Station 15 are also on standby.
Prescribed fires are carefully conducted under identified and approved prescription conditions. Wind, temperature, relative humidity, and atmospheric pressure will be monitored to ensure safe and effective prescribed fire operations.  The burn will be closely coordinated with weather forecasters and air quality managers.
The primary objective of the burn is to reduce the build-up of hazardous vegetation that can lead to intense wildfires.  The burn will also help meet natural resource objectives including recycling nutrients and increasing habitat diversity. Firefighters and public safety is always a priority. 
The MalaquiteVisitorCenter, BirdIslandBasin, and GulfBeaches will remain open. The Malaquite Campground will be temporarily closed for the day due to smoke.  Visitors traveling to BirdIslandBasin and on Park Road 22 should anticipate smoke in the area and may experience temporary traffic delays while traveling in the park, especially between 9 a.m. and 1 p.m. Visitors are asked to drive slow, turn their headlights on, and watch for traffic control and fire personnel working in the area. Smoke columns may be visible from Corpus Christi, Texas.