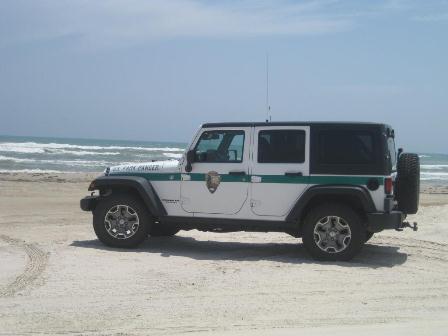 News Release Date:
August 20, 2014
Contact: Tim Thompson, (361)949-9238
Contact: Scott Martin, (361)949-9238
If drunk driving was eliminated, more than 10,000 lives would be spared each year. Law Enforcement officers at Padre Island National Seashore have joined the National Highway Traffic Safety Administration (NHTSA)'s national DUI crackdown campaign to detect and deter intoxicated driving through the end of the summer. This year's "Drive Sober or Get Pulled Over" high-visibility enforcement campaign will run August 15 through September 1, covering the end of summer and the busy Labor Day holiday weekend. Our goal is to keep our beaches and roads safe from drunk drivers who put lives at risk.
Law Enforcement officers at Padre Island National Seashore will be conducting a Sobriety Checkpoint as part of their high-visibility enforcement campaign on Saturday, August 23, 2014 on Park Road 22 near the park's entrance. The purpose of the checkpoint is to detect and apprehend alcohol and drug impaired drivers.
In every state, it is illegal to drive with a blood alcohol concentration (BAC) of .08 grams per deciliter (g/dl) or higher, yet people continue to break the law and drive drunk. Since June 1, Park Rangers have arrested 28 intoxicated drivers and issued more than 50 open container citations. According to the Texas Department of Transportation there were 3377 traffic fatalities in the state of Texas in 2013, with 32 percent being alcohol/DUI related. Sobriety checkpoints are a proactive deterrent and are one of the most effective methods of reducing the amount of impaired drivers who pose a serious threat to innocent, unsuspecting motorists traveling our roadways.
This checkpoint will support the continued detection and deterrence of alcohol and/or drug impaired driving and will contribute to a safe park experience for all visitors on this summer weekend.