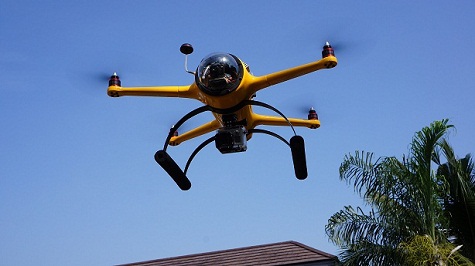 News Release Date:
September 15, 2014
Contact: Travis Poulson
The National Park Service embraces many activities in national parks because they enhance visitor experiences with the iconic natural, historic and cultural landscapes in our care. Sometimes new kinds of activities appear. Each new activity needs to be examined to see how it could impact park resources or the visitor experience. Over the course of the last year the use of quad copters and drones has risen dramatically across the United States. To examine potential impacts Jon Jarvis the Director of the National Park Service issued an interim policy earlier in 2014 banning the use of unmanned aircraft at all national park sites until a determination could be made.
Management Policies 2006 1.5 and 8.2.2 state the National Park Service will not allow new park uses until a determination has been made that the new use will not cause unacceptable impacts on park resources and values.Policy Memorandum 14-05, dated June 19, 2014, provides interim policy guidance until this determination has been made.
A determination has been made to ban the use of unmanned aircraft Padre Island National Seashore. Below is the section from the superintendent's compendium 2014 that address this issue:
(xix)
Launching, landing or operating an unmanned aircraft from, over or on lands and waters administered by the National Park Service within the boundaries of Padre Island National Seashore is prohibited except as approved in writing by the Superintendent.
Definition: The term "unmanned aircraft" means any device used or intended to be used for flight in the air without the possibility of direct human intervention from within or on the device.This includes but not limited to the following devices: remote controlled model airplanes, quad copters, and drones that are used for any purpose, including for recreation or commerce.
Determination
The Superintendent has determined that unmanaged or unrestricted recreational use of UAs within Padre Island National Seashore will conflict with, or impact, a variety of park uses including visitor experience of unimpaired view sheds;the disturbance, displacement or harassment of park wildlife to include threatened and endangered species, present potential for impacts or damage to sensitive coastal areas, creation of public safety hazards per operation near roadways or large aggregations of visitors, and visual or aural impacts to wilderness character and values within the park.Padre Island N.S. is situated along the Central Flyway;Padre Island is a globally important area for over 380 migratory, overwintering, and resident bird species (nearly half of all bird species documented in North America). Thirteen of these species are considered species of concern, threatened, or endangered (i.e. Piping Plover, Interior Least Tern and Peregrine Falcon).