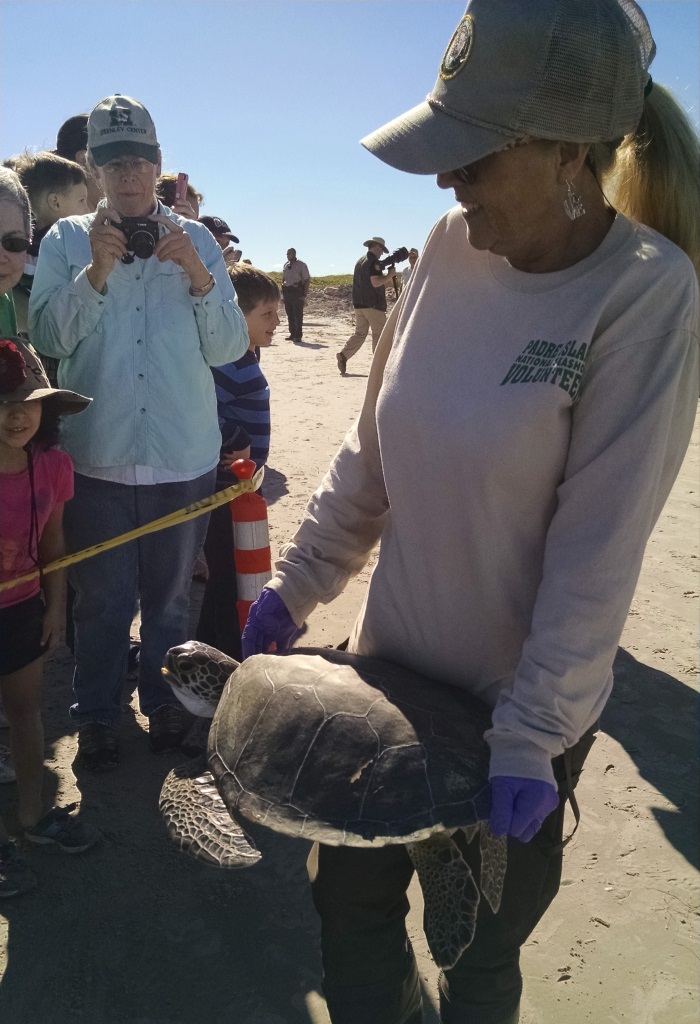 News Release Date:
January 27, 2015
Contact: Donna Shaver, Ph.D., (361)949-8173 ext. 226
(Corpus Christi, Texas)- Due to a rapid drop in temperatures over the last few weeks many green sea turtles were rescued and rehabilitated by several agencies with much help from volunteers. It is now time to return these sea turtles into the Gulf of Mexico. Members of the public are invited to come watch the release of cold stunned green turtles at 2:00 pm on Wednesday January 28. The release will be held in front of the Visitor Center at Padre Island National Seashore (on North Padre Island), and will be open to the public free-of-charge.


Currently, favorable weather conditions are predicted. If the forecast changes and we experience cold temperatures later this week, we may need to postpone the release. We encourage you to periodically check our Facebook pages;https://www.facebook.com/nps.pais.seaturtles or https://www.facebook.com/nps.pais.You can also find out more by calling our recorded Hatchling Hotline (361-949-7163) for the latest information on the release.
To attend, follow park road 22 out to Padre Island National Seashore, located on North Padre Island. Drive approximately two miles past the entrance station to the Malaquite Visitor Center and park there. Walk through the visitor center complex to the boardwalk and proceed down to the beach, this is where the release will be conducted.

Representatives from the park and other organizations involved in the rescue and care for these turtles will be present and will provide information and instructions about the release starting at 1:30 pm.

Park entrance fees will be waived for people attending the release. 

A cold stunned sea turtle is one that has become hypothermic due to cold weather. Sea turtles are reptiles and cannot regulate their body temperature. When the water temperature drops below 50 degrees Fahrenheit they will not be able to swim, increasing the risk of predation and boat strikes. They float to the water's surface or wash ashore. If not located and protected quickly they often succumb to the elements.