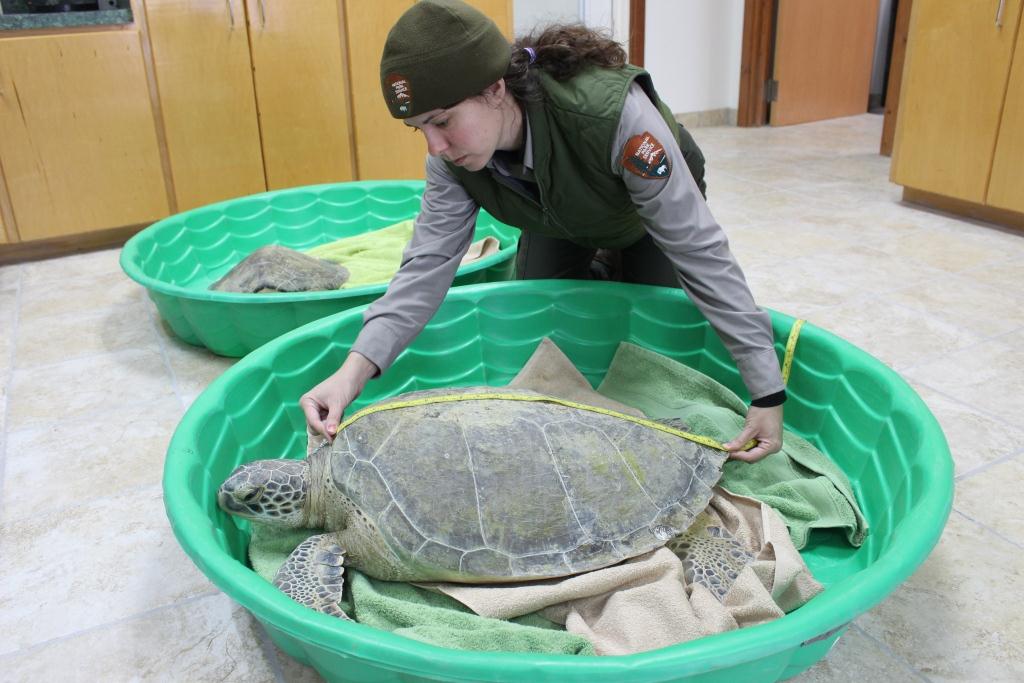 News Release Date:
September 30, 2014
Contact: Dr. Donna Shaver, 361-949-8173 ext. 226
Staff from the National Seashore will deliver training about what the public should do if they see a cold stunned sea turtle.
(Corpus Christi, Texas)-Superintendent Mark Spier announced today that the staff at Padre Island National Seashore will be providing a free lecture and training session to the public about what they should do if they see a cold stunned sea turtle this winter. People that want to help rescue and document cold stunned sea turtles as volunteers with the Padre Island National Seashore Division of Sea Turtle Science and Recovery are also invited to attend. The lecture will be held from 10:00 am-Noon Saturday, October 25, 2014, at the Seashore Learning Center Gymnasium at 15801 SPID, Corpus Christi, TX 78418.


Every few years, large numbers of juvenile green sea turtles are found cold stunned in south Texas waters. Cold stunning occurs when freezing air temperatures cause these sea turtles to become immobilized and float to the surface. If they are notfound and brought to a rehabilitation facility quickly they will succumb due to exposure or predation. The green sea turtle is a threatened specieshere in Texas. With help from the public and volunteers many of the stranded sea turtles are found and reported on the Texas coast each year. Your help in finding and documenting stranded sea turtles is needed and appreciated. During the lecture and training, staff will describe how the public and volunteers can help with local efforts to rescue and document cold stunned green turtles.

For more information about this public lecture, please call the Padre Island National Seashore Sea Turtle Laboratory at 361-949-8173, extension 268.
-NPS-