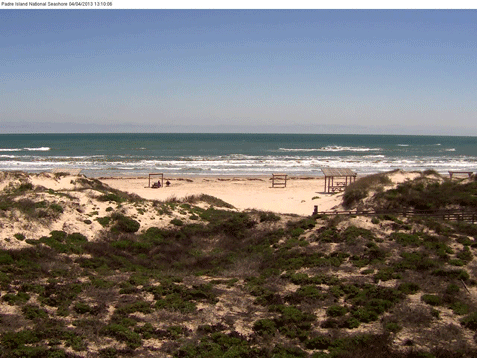 Click here to see current conditions at Malaquite Beach with a live webcam image. Refresh the page to view a new image every minute.
Call the park's Beach & Weather Conditions Hotline at (361) 949-8175 for updated information on beach and driving conditions, weather forecasts, tides, and other helpful information. This recorded information is updated by park rangers every morning at around 9:00 a.m.
Click on a location to get the National Weather Service forecast for that area:
For information on weather watches and warnings go to the National Park Service All Hazard Situation Report
Padre Island has long, hot summers and short, mild winters. In summer, high temperatures average in the high 80s and low 90s (Fahrenheit) with lows in the 70s. Afternoon and evening sea breezes help to moderate summer temperatures. In the winter, highs are commonly in the 60s, lows in the 40s and 50s. Winter cold fronts can occasionally drop temperatures into the upper 30s, but rarely below that. In the spring and fall highs average in the 70s-80s, lows in the 50s-60s. Throughout the year the relative humidity seldom drops below 70 percent. Most rain falls near the beginning and end of hurricane and tropical storm season, which lasts from June to October.