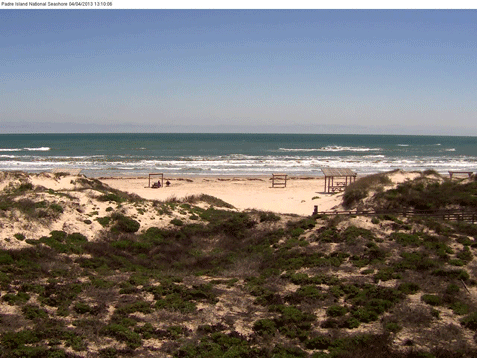 Come prepared! Weather on Padre Island varies widely and can change from sunny and warm to thunderstorms and heavy winds very quickly. Here are some weather-related links and information for planning your visit:
For Today's conditions:
Call our Beach & Weather Conditions Hotline (361-949-8175) to hear the current day's weather forecast, tides, beach driving conditions, seaweed levels, fishing reports, alerts, and other very helpful information. This recording is updated at about 9:00 a.m. daily.
See current conditions on our Malaquite Beach webcam. Refresh the page each minute for an updated image.
Typical Weather Conditions:
Padre Island has long, hot summers and short, mild winters. Most rain falls near the beginning and end of hurricane and tropical storm season, which lasts from June to October.
Spring –Daytime temperatures average in the 70s-80's Fahrenheit, with lows in the 50s-60's.
Summer – Daytime temperatures are usually in the mid-90's Fahrenheit, with very humid conditions. Lows are usually in the 70's. Afternoon and evening sea breezes help to moderate temperatures.
Fall – Daytime temperatures average in the 70s-80's Fahrenheit, with lows in the 50s-60's.
Winter – High temperatures are usually between 50°-70° Fahrenheit but can occasionally drop into the upper 30;s. Sudden, strong cold fronts can move through, bringing gale force winds and dropping temperatures quickly. The wintertime climate is typically dry, though most of the year's rainfall occurs in the winter.
Year-round – Average wind speed ranges from 5-25 miles per hour. Relative humidity seldom drops below 70%.
Rainfall - Average rainfall for the southern end of the park is 26 inches and 29 inches for the northern end of the park.
Click on a location to get the National Weather Service forecast for that area: