The Gulf of Mexico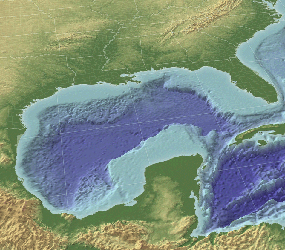 Padre Island has its origins in the Gulf of Mexico. The currents of the Gulf bring all the natural debris (such as sand, driftwood, and seaweed) that form the island. The wind that shapes the dunes of Padre Island comes mainly from over the Gulf. The wind also carries salt spray onto the island thus influencing the growth of many species of plants, which are more or less salt tolerant.
Finally, the park's marine life along the island's eastern shore lives in the Gulf, where the park's eastern boundary extends to approximately one quarter mile out to sea. As the park's Gulf shoreline extends for 65.5 miles, this means that the park contains about 16.4 square miles of Gulf waters.
A wealth of information about the Gulf of Mexico is available via the Internet. Follow the links below detailed information on a wide variety of aspects of the Gulf of Mexico.
http://www.gulfmex.org/facts.htm Visit the Gulf of Mexico Foundation.
http://www.nws.noaa.gov/om/marine/gulf.htm Read the National Weather Service's Marine Forecasts for the Gulf.
http://www.ndbc.noaa.gov/maps/WestGulf.shtml Find out what the Gulf weather and sea conditions are like at several offshore locations by visiting the National Data Buoy Center.
Last updated: February 24, 2015