Look For and Report Stranded Sea Turtles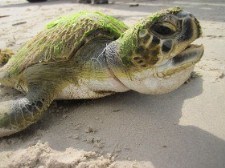 If you are walking on a shoreline, driving on the beach, or boating, here is a great way that you can help save sea turtles.
Watch for sea turtles that are stranded. A stranded sea turtle is one that is found washed ashore or floating, alive or dead. If it is alive, it is generally in a weakened condition.
Stranded sea turtles can be found in bays, passes, the Gulf of Mexico, or on their shorelines. They can be located year-round.
It is important that you watch for and report stranded sea turtles so that biologists can document them. Live, stranded sea turtles will be taken to rehabilitation facilities to receive care. Dead, stranded sea turtles will sometimes be salvaged for necropsy and study, and when they are not, they will be removed from the beachfront or marked so that they are not documented again.
If you find a stranded sea turtle, please report it by flagging down a passing turtle patroller (April through mid-July) or law enforcement officer, or by calling the appropriate area coordinator. If you do not recall the number for the area coordinator, call 1-866-TURTLE5 and a recorded message will give you that number.
· Report the turtle's location, size, proximity to the surf, and condition (alive or dead).
· Mark the location.
· If the turtle is alive, stay at the site until an official arrives if possible.


Your assistance is greatly appreciated and could make all the difference in protecting these threatened and endangered turtles.
Last updated: February 24, 2015