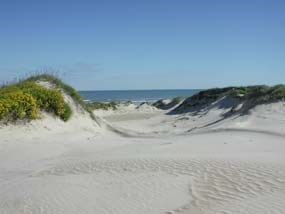 From horizon to horizon there are few man-made objects to interfere with the natural landscape. In the over 133,000 acres of the park there are perhaps a dozen buildings, none over two stories high, and all are at the northernmost ten miles of the park. Offshore are several distant natural gas platforms, which are lit at night, but at their distance the intrusion of their lights onto the nightscape is negligible.
The island is off the major shipping lanes in the Gulf and therefore few large ships pass by. Most large cargo vessels transit via the intracoastal waterway in the Laguna Madre and, for the most part, are hidden from view of the public on the Gulf shore by distance and the fore-island dune ridge.
The most serious problem affecting the park's scenic vistas is trash which floats in from the Gulf and collects on the shoreline. Periodic beach clean-ups alleviate the problem somewhat and help to slow the accumulation of trash in the northernmost area of the park, which is also the most heavily used. The problem with trash increases as one travels farther down island (south) because four-wheel-drive is required to reach the southernmost areas and because of the greater distances over which the trash must be hauled out. Therefore more trash accumulates the farther south one travels. Occasionally high tides will clean the beaches, but the trash is only redeposited elsewhere.