Ridley Ranger
Go to the main sea turtle program page
What happens when the expert staff of Padre Island National Seashore's sea turtle program cannot find a Kemp's ridley sea turtle nest? They call in Ridley Ranger!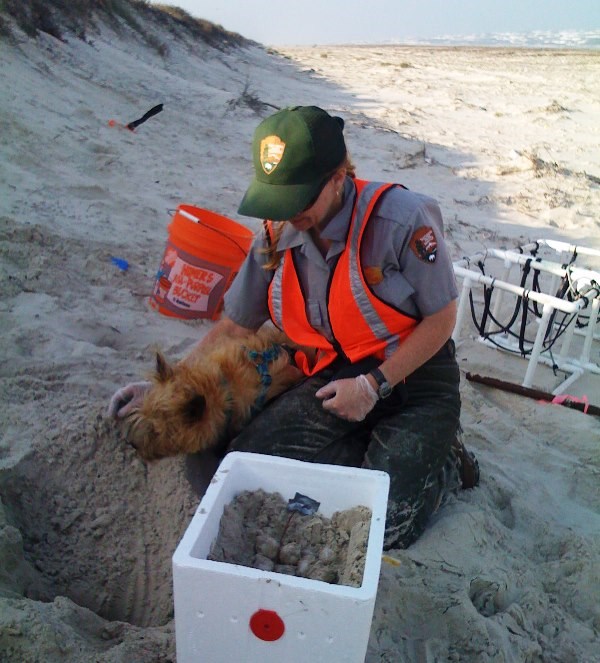 Light Tracks & Windy Days
Kemp's ridley sea turtles are the smallest of all sea turtles found in the Gulf of Mexico. They only weigh 80-100 pounds. They often come ashore to nest during very windy or stormy weather conditions. The winds and rain blow and wash away the turtle's tracks and scent, making it harder for predators to find and eat the turtle's eggs. But it also makes it much harder for our staff to find and protect the nest.
Like crime scene investigators, our sea turtle program staff use clues left behind by the nesting turtle to find her nest. Broken vegetation, disturbed sand, and other signs can lead us to the nest buried deep under the sand. The tracks of the turtle are one of the best clues we have. But on very windy or rainy days, the tracks of the turtle can disappear in just a few minutes. If we cannot find the nest, it is left unprotected and often does not do well. Unprotected nests usually have lower hatch rates (if they hatch at all) and fewer hatchlings that survive.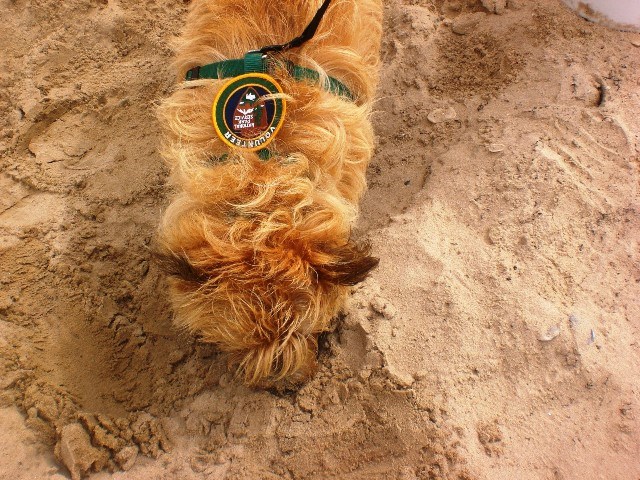 Dog Detective
Dr. Shaver, Chief of the Division of Sea Turtle Science and Recovery at the park, decided to train her dog, Ridley, to help find nests that were very difficult to find. After months of intensive training, Ridley joined the sea turtle team. Since then, he has demonstrated his dog detective skills more than once.
Early in his training, Ridley was put to the test. Biologists had spent hours searching for a Kemp's ridley nest but were unable to find it. Weeks later, Dr. Shaver returned to the site with Ridley. He eagerly searched the beach and lay down on the exact spot where the nest was located!
On another occasion, staff and volunteers spent 5 hours searching an area of North Padre Island where beach patrollers had seen a turtle nest. Stumped, they called in Ridley. He found the nest in just a few minutes! Thanks to Ridley, 92 healthy hatchlings from that nest were released a couple of months later.
Ridley came to the rescue once more when another nest on North Padre Island could not be found. Staff and volunteers searched for 3 hours without success. As the sun started to set and the beach cooled, Ridley was brought to the scene. He charged up the beach, stopped at one spot, and gently pawed the sand. Directly beneath, biologists found the nest of 76 eggs. Ridley's nose knows!
Through the years he has found a few other nests, and has helped confirm to us when nests were not present at some track sites where the female turtle came ashore but failed to lay eggs. Fortunately, staff members have gotten so good at finding nests that Ridley is not needed very often. However, it is great to have Ridley's nose and eager nest-finding spirit as a back-up when our human detection efforts fail.
A Furry Celebrity
Ridley continues to aid the Kemp's ridley recovery project from time to time. His important help has been discussed in a variety of media. His success in finding and saving sea turtle nests has been featured in several books, including Dogs of Courage: The Heroism and Heart of Working Dogs Around the World by Lisa Rogak. Ridley has also been featured in articles by the Cairn Terrier Club of America, the Corpus Christi Caller Times, Bark Magazine, Dog Fancy, and AKC Family Dog Magazine.
Last updated: October 23, 2015