Reporting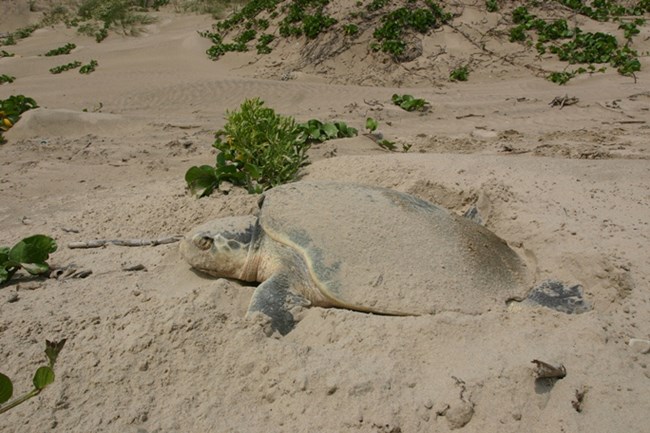 If you are walking or driving on the beach at Padre Island National Seashore or elsewhere on the Texas coast, here is a great way that you can help save sea turtles. Look for and report nesting Kemp's ridley turtles (two feet long) and Kemp's ridley tracks (two feet wide) while you are on the beach between April and mid-July. Watch for the rectangular "nesting Kemp's ridley alert" flag at the National Seashore. This flag has a bright yellow background and a black silhouette of a sea turtle, and is flown on the Entrance Station and Malaquite Pavilion flagpoles each day that a Kemp's ridley nest is found on the Texas coast. Nesting can occur during any day of the nesting season, but when the flag is flown the probability of finding more nests is higher.
Familiarize yourself with Kemp's ridley nesting habits and habits of emerging hatchlings. If you are driving on the beach, please drive carefully and slowly.
From May through September, look for nesting sea turtles of other species (up to four feet long) and their tracks (up to four feet wide). Watch also for hatchlings from other species that could emerge from previously undetected nests and crawl towards the sea as late as October. For these other species, the turtles nest and the hatchlings emerge mostly at night.
If you find a nesting sea turtle, sea turtle tracks, or hatchlings, please IMMEDIATELY report them by flagging down a passing turtle patroller or law enforcement officer, or by calling the appropriate area coordinator. If you do not recall the number for the area coordinator, call 1-866-TURTLE5 and a recorded message will give you that number.
It is essential that you report these observations immediately so that biologists can arrive as quickly as possible to protect the turtles and eggs. Also, please report the nesting turtle as soon as you see her, so that biologists can try to get to the site to examine her before she re-enters the sea.
Protect the nesting turtle and hatchlings from passing traffics.

Hatchlings and nesting turtles can be difficult to see.

If necessary, ask motorists to take another route to avoid damage to the turtles or nests.

Allow the turtle to nest undisturbed.

After the nesting turtle has started to lay the eggs or when she is returning to the water, photograph or video her and examine her for tags. Photograph or video the hatchlings as they are emerging from the nest or crawling towards the water.

Mark where the turtle nested or where the hatchlings emerged from.

Make sure that the turtles safely enter the water, but do not place them in the water or touch them.

If possible, stay at the site until an official arrives.
Your assistance is greatly appreciated and could make all the difference in protecting these threatened and endangered turtles.

Last updated: May 30, 2016