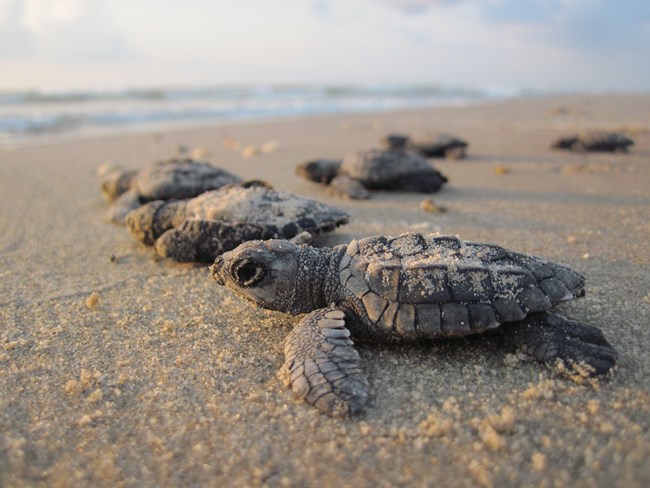 Go back to the main sea turtle program page
Click here for the current sea turtle nesting season with table of projected hatch dates
Would you like to watch newly hatched sea turtles get released into the wild? Find tips to improve your chances and answers to FAQs here....
When and where can I see a hatchling release?
Hatchling releases typically occur from mid-June through August. Most releases that are open to the public take place at 6:45 a.m. on Malaquite Beach in front of the Visitor Center at Padre Island National Seashore on North Padre Island in Corpus Christi, Texas. [
NOTE
: Most GPS units and smart phones do NOT accurately locate the park and will lead you to the wrong place! Please follow our
map and directions
to find the park and the public hatchling release site.]
Not all hatchling releases are public, and hatchling releases do not occur daily or on a regular schedule
because we cannot predict exactly when a sea turtle nest will hatch. Like all babies, the hatchlings decide when they are ready. But like with a human pregnancy, each nest found is given an approximate "due date" - a range of dates during which we think that the nest will most likely hatch. Check our
Current Nesting Season
page to see how many nests have been found this year and when they are expected to hatch.
Your chances of seeing a sea turtle hatchling release are best when several nests are due to hatch at about the same time. If you can, plan to visit over a period of several days when multiple nests are due to hatch. Once those dates are near, call our Hatchling Hotline (361-949-7163) or check our Sea Turtle Program Facebook Page or Park Facebook Page to find out the latest information about the next scheduled public release.
Hundreds of people may be at a public hatchling release. More people attend the first release, on weekends, and on holidays. However, the hatchlings usually take 20-45 minutes to make their way across the beach and into the water, affording time for everyone to get a good view. Volunteers and Park Rangers also bring hatchlings around for visitors to get a close-up look and take no-flash photos.
Do you ever release sea turtles at other times of the year?
Sometimes we release cold stunned sea turtles during the winter, but those releases are very different. Check out our Cold Stunned Sea Turtles page for more information about releases of sea turtles during the winter. For information on how you might see sea turtles (either in the wild or during a public release) in this area at different times of the year, go to our How to See a Sea Turtle page.