Be A Junior Ranger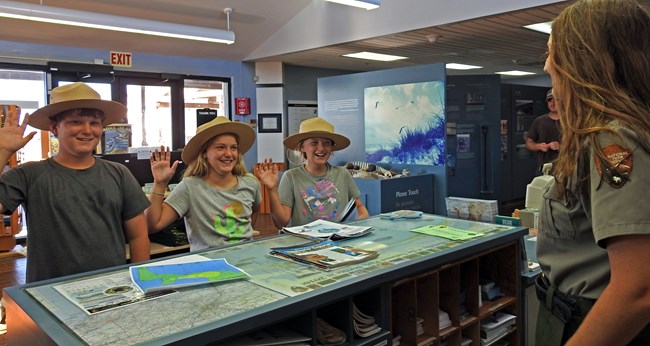 Are you interested in exploring? Do you like art, science, history or nature? Would you like to learn more about the national parks that belong to you? Did you know you can help protect these special places - even if you never visit them all?
Padre Island National Seashore is just one national park that gives you a chance to earn an official Junior Ranger badge. Ask a ranger for a Junior Ranger booklet when you stop by the Malaquite Visitor Center. For all those who are young or young-at-heart, come out and earn your badge today! All ages are welcome to participate!


How to Become a Junior Ranger:
1) Pick up a Junior Ranger booklet from Malaquite Visitor Center.
2) Complete the booklet by doing as many pages as you are years old. For example, if you're 7 years old, you have to complete 7 pages.
3) Bring your completed booklet to Malaquite Visitor Center, scan and e-mail it to us, or send by mail.
4) If bringing in your booklet to Malaquite Visitor Center, you will be sworn in as an official National Park Service Junior Ranger and will receive your official Junior Ranger badge!
If completing and sending in by mail or e-mail, you will be mailed a badge and your booklet (if mailed in). It is not necessary to include a self-addressed, stamped envelope.
Please send completed booklets to:
Padre Island National Seashore
Attn: Malaquite Visitor Center
Or scan and e-mail to: pais_visitor_center@nps.gov
Junior Ranger Booklets Available for Download:
Underwater Explorer Junior Ranger Booklet


Last updated: March 17, 2022