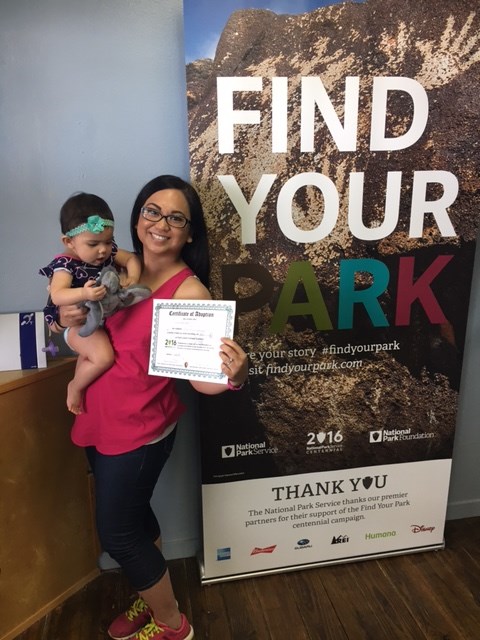 Calling all families! The Centennial Sea Turtle program celebrates both 100 years of the National Park Service and sea turtle conservation efforts here at Padre Island National Seashore, and we are excited you're considering to be an adoptive family! By being part of this program, you and your family agree to take and share photos of your travels with your very own plush Kemp's ridley sea turtle hatchling with a special edition Centennial flipper tag! The travels of you and your family's own plush adoptive turtle represents the distances real sea turtles must travel throughout their lives. To share photos on Facebook and Instagram, please use the hashtag #CentennialSeaTurtle. You may also choose to e-mail photos to us at: pais_visitor_center@nps.gov. Thank you again for your interest in this exciting new Centennial initiative!
Frequently Asked Questions:
How can I apply for adoption of a plush Centennial sea turtle?
Download and read over the adoption application, sign and fill out all information, and send back both completed forms to us to our park e-mail address (pais_visitor_center@nps.gov). We have a very limited supply of turtles and adoptions will be granted in the order that we receive the applications.
How long will this being going on?
Until all of the plush turtles are adopted! Applications are processed on a first-come, first-served basis and there is a limited supply of Centennial sea turtles. They won't last long so try to get your application in as soon as possible!
What am I supposed to do with the turtle?
By adopting, you agree to take it traveling with you and your family and share pictures of your travels with us on social media by tagging photos with a special hashtag (#CentennialSeaTurtle)
or by sending photos to our park e-mail address (pais_visitor_center@nps.gov).
What comes with the turtle?

You will get an adoption certificate, and of course, a plush Kemp's ridley hatchling with a limited-edition Centennial flipper tag!


How much does it cost to adopt a Centennial turtle?
It's free!


Can I reserve a turtle?
Sorry, turtles may not be reserved.


I have three kids. May we have one turtle per child?
Only one turtle per family may be adopted.


Have another question that's not listed here? Send us an e-mail or call us at (361) 949-8068.