Artist in Residence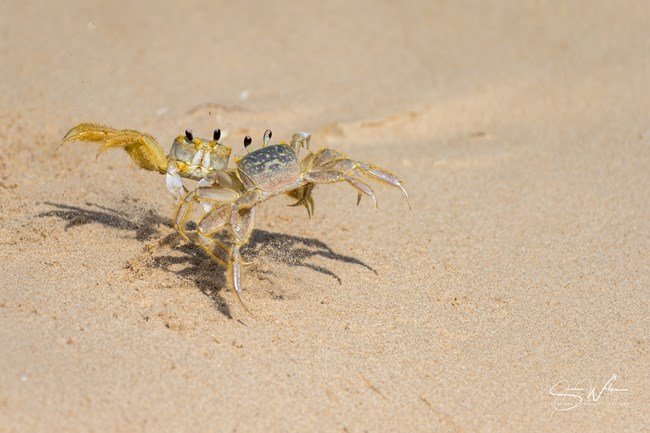 About the Program
The Padre Island National Seashore Artist-in-Residence program offers a glimpse into the beauty of Padre Island to selected artists for a period up to 3 months. Over this time, artists will be surrounded by the natural world and allow it to inspire them and their work. Writers, painters, sculptors, composers, cinematographers, and other visual and performing artists are encouraged to apply for this opportunity. The goals of this program are to allow artists to form a deeper connection to the natural world and support the NPS mission of conservation and preservation.



Benefit to the Artist
Program provides time and space to develop and exhibit a body of work, as well as opportunities to engage the public through outreach initiatives
Free campsite at Volunteer-in-Parks Campground with hookups for a period of up to 3 months (RV or housing not provided)
Opportunity to collaborate with local artists and artist collectives
Enrollment in National Park Service Volunteer-in-Parks Program

Accommodations
Each selected artist will have the option of camping on the beach where the waves are footsteps away or RV camping at the park's Volunteers-in-Parks (VIP) campground. Tents and RV's are NOT provided and must be supplied by the artist. For those artists who bring their own RV to Padre Island National Seashore, a campsite with free hookups can be provided for a period up to 3 months. Laundry facilities are also available on site.

If the artist is local and not staying in the park, art supply reimbursement can be provided. Cell phone reception will be limited and there will be no internet available at the camping areas. However, there is free, public wifi at the Malaquite Visitor Center. Artists will have to arrange their own transportation to the park and provide all groceries and personal amenities. Applicants should be prepared for insects such as ticks and mosquitoes.

Interviews and Social Media
Park staff will conduct taped interviews with the artist. Staff will also take photos of the artist at work. These will be posted to the park's social media accounts to increase awareness of the program and promote the artist's work. Artists may be asked to give presentations open to the local community and may also be interviewed by park staff for use on the park's social media outlets.

Hurricane Preparedness
Summer artists should be aware that this program may need to be cancelled on short notice during hurricane season. No expenses can be reimbursed if this should occur.

Journal Entry
At the end of the residency, artists are asked to turn in a brief summary of thoughts and experiences that occurred during their time on the island. This summary will be featured in park publications as well as where the art is displayed.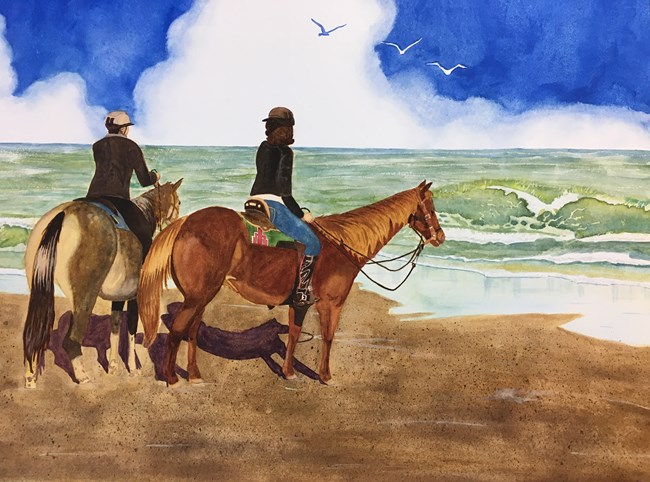 Donated Work
After the residencies are completed, artists will have six months to create an electronic portfolio. This portfolio shall be used by the park only for interpretive and education purposes, or to promote the Artist-in-Residence Program in the future. All artists will also have those six months to donate to the park one piece of original work inspired during the residency.

All artists must donate at least 1 piece of artwork to the park. For every additional month the artist stays in the park, the artist must donate 1 piece of work to the park. For example, if an artist stays in the park for 3 months, they must donate 3 pieces of work, 2 months, 2 pieces, and 1 month or less, 1 piece. The artist is required to provide the copyrights for the piece(s) to Padre Island National Seashore. The artist will retain a royalty-free, non-exclusive use license under the copyright of the art. When the artist reproduces the artwork for their purposes, publication language will include the following: "This artwork was produced under the Artist-in-Residence Program at Padre Island National Seashore."
Additional Information
Candidates should be comfortable with dry camping. They should be aware of insects and other naturally occurring flora and fauna.
No stipend is provided. All grocery shopping needs to be done before arriving at Padre Island National Seashore.
Artist may bring one guest to accompany them.
Artist must agree to comply with all National Park Service rules and regulations.
Eligibility
The Artist-in-Residence program offers both emerging and established artists of all mediums the opportunity to apply.
All applicants must agree to abide by National Park Service rules
We consider all forms of art except those that manipulate or disturb the environment or are disrespectful.
Selections are made without regard to race, religion, marital status, sex, age, or national origin
Calendar
The length of the residence has a 3 day minimum and a 3 month maximum. Applicants may indicate three periods of time they will be available. Preference will be taken into account, but top choice cannot be guaranteed.
How to Apply
There will not be a 2023 residency.


Last updated: August 2, 2022