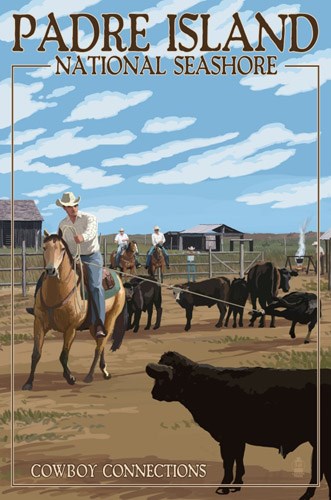 Be a part of history! Come out to COWBOY CONNECTIONS and celebrate over 150 years of cattle ranching history, the Centennial year of the National Park Service, and the 50th anniversary of the National Historic Preservation Act!
WHAT: "Cowboy Connections" event- Guest speakers, cowboy poets and musicians, historical artifacts, and kid's crafts (full event schedule below)

WHEN: Saturday, October 15th, 2016, 9:00 am - 1:00 pm

WHERE: Malaquite Visitor Center at Padre Island National Seashore. Event is free with paid park entrance fee ($10 for week pass per vehicle or $20 for annual pass).

Please note there is limited seating capacity in the auditorium for the guest speakers. Seating is on a first-come, first-served basis.
Ranger-led Tours of Novillo Line Camp
Due to low public interest, the Novillo Line Camp tours are cancelled. The "Cowboy Connections" event is still on and will occur at Malaquite Pavilion. Demonstrations that were previously at the tour will be relocated to the Malaquite Pavilion area.
Cowboy Connections Event Schedule
9:00 am- Event begins at Malaquite Pavilion, Padre Island National Seashore
9:00 am- 1:00 pm- At Malaquite Pavilion: Cowboy Singer (
Andy Hedges
), historical artifacts display with the Conner Museum and the Corpus Christi Museum of Science and History, and kid's crafts
9:45 am-10:15 am- David Coover Jr., former cowboy with the historic Dunn Ranch, speaks in Auditorium
10:15 am – 11:00 am- Andy Hedges, Cowboy Singer, performs at Malaquite Pavilion
11:00 am – 11:30 am- Linda Reed, Granddaughter of Burton Dunn, speaks in Auditorium
11:30 am – 12:00 pm- Andy Hedges, Cowboy Singer, performs at Malaquite Pavilion
12:00 pm – 12:30 pm- Virtual tour of Novillo Line Camp with Chief of Interpretation, Patrick Gamman
12:30 pm – 1:00 pm- Andy Hedges, Cowboy Singer, performs at Malaquite Pavilion

1:00 pm- Event end