Riverways Outfitters
Call a canoe rental in the area of the river you would like to float. They will put you in, provide you with all equipment you'll need and pick you up at the end of your adventure. Some will even pick you up at your campsite or room and return you afterwards. Prices are competitive. Most also offer small stores where you can purchase soda, bait, sunscreen, chips and the other necessities for a day on the water. Many offer kayaks, rafts and tubes in addition to canoes.
Rowdy behavior by a small minority of floaters has been a problem in the past. Law enforcement efforts have been increased, new rules are in place and serious efforts are being made to control those who would ruin others' experiences by their behavior.
If you have not been to the Riverways for some time, this is the time to come back. We have been making a difference on the rivers in controlling unacceptable behavior. In the unlikely event you have any problems, record the boat number and report it to a park ranger, county sheriff or canoe outfitter. The canoe outfitters and park staff are ready to serve you and we encourage you to again bring your families, friends and organized groups.If you wish to enjoy the natural wonders of our beautiful sparkling rivers in a family friendly atmosphere, c'mon down!
Outfitters:

Scenic Rivers Guide Service
573-225-3390

Big Creek Trail Ride 877-932-4846

Tightline Fly Fishing 573-364-7633


Trail Ride Guides 573-226-3492

NO GLASS!

For everyone's safety and to help limit litter, glass containers and Styrofoam coolers are prohibited on the rivers, trails, in caves and within 50 feet of rivers.

ALL CAVES ARE CLOSED

All caves within the Ozark NSR, except Round Spring and Devils Well, are closed until further notice. Do NOT enter caves along the river.

"There's nothing . . . absolutely nothing . . . half so much worth doing as simply messing around in boats." - (Kenneth Grahame, The Wind in the Willows)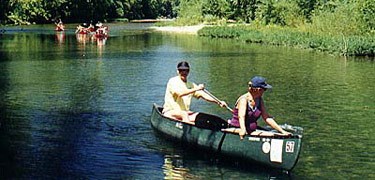 "The song of the river ends not at her banks but in the hearts of those who have loved her." - (Buffalo Joe)


Last updated: July 18, 2021