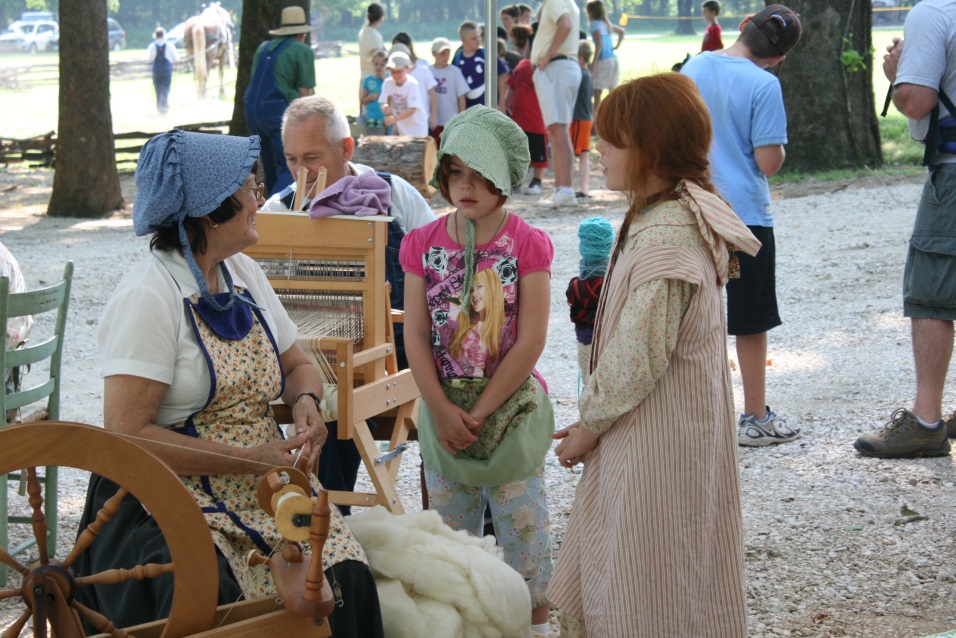 News Release Date:
July 6, 2016
Contact: Dena Matteson, 573-323-8028
VAN BUREN, MO – Ozark National Scenic Riverways will offer cultural demonstrations and workshops at Big Spring during July as part of the celebration of the 2016 National Park Service Centennial. Each of these activities will be held on Saturdays, from 10 a.m. to 2 p.m. Programs will provide an opportunity for visitors to experience aspects of the Ozark cultural heritage, including the resourcefulness and creativity of the Ozark settlers.  
•July 9– Spinning and Weaving Demonstration:  Members of the Ozark Fiber Artist Guild will demonstrate a variety of handcrafts, such as hand spinning, knitting, weaving, and wheel spinning. 

•July 16– Pottery Workshop:  Local potter David Porter will demonstrate pottery making using a kick wheel. Participants will have an opportunity to use the kick wheel to create their own piece of pottery. 
•July 23– Corn Husk Dolls Workshop:  Corn was an essential crop on the early Ozark farmsteads. Corn was used in a variety of ways, but perhaps the most enjoyable was the making of corn husk dolls. Participants will be able to create their own doll.
•July 30– Heritage Tools Demonstration:  Members of the Ozark Heritage Workshop will display and demonstrate a variety of unique and interesting tools that were commonly used by Ozark settlers.  
These programs are part of a series of activities and events planned at Ozark National Scenic Riverways throughout 2016 to celebrate the centennial of the National Park Service. We invite you to find your park and discover new activities and adventures in your own backyard! For more information about the Riverways and upcoming centennial programs, call (573) 323-4236; visit the park's Facebook page, or website atwww.nps.gov/ozar.

Ozark National Scenic Riverways preserves the free-flowing Current and Jacks Fork Rivers, the surrounding resources, and the unique cultural heritage of the Ozark people.

-NPS-
 About the National Park Service. More than 20,000 National Park Service employees care for America's 412 national parks and work with communities across the nation to help preserve local history and create close-to-home recreational opportunities. Visit us at www.nps.gov, on Facebook www.facebook.com/nationalparkservice, Twitter www.twitter.com/natlparkservice, and YouTube www.youtube.com/nationalparkservice.