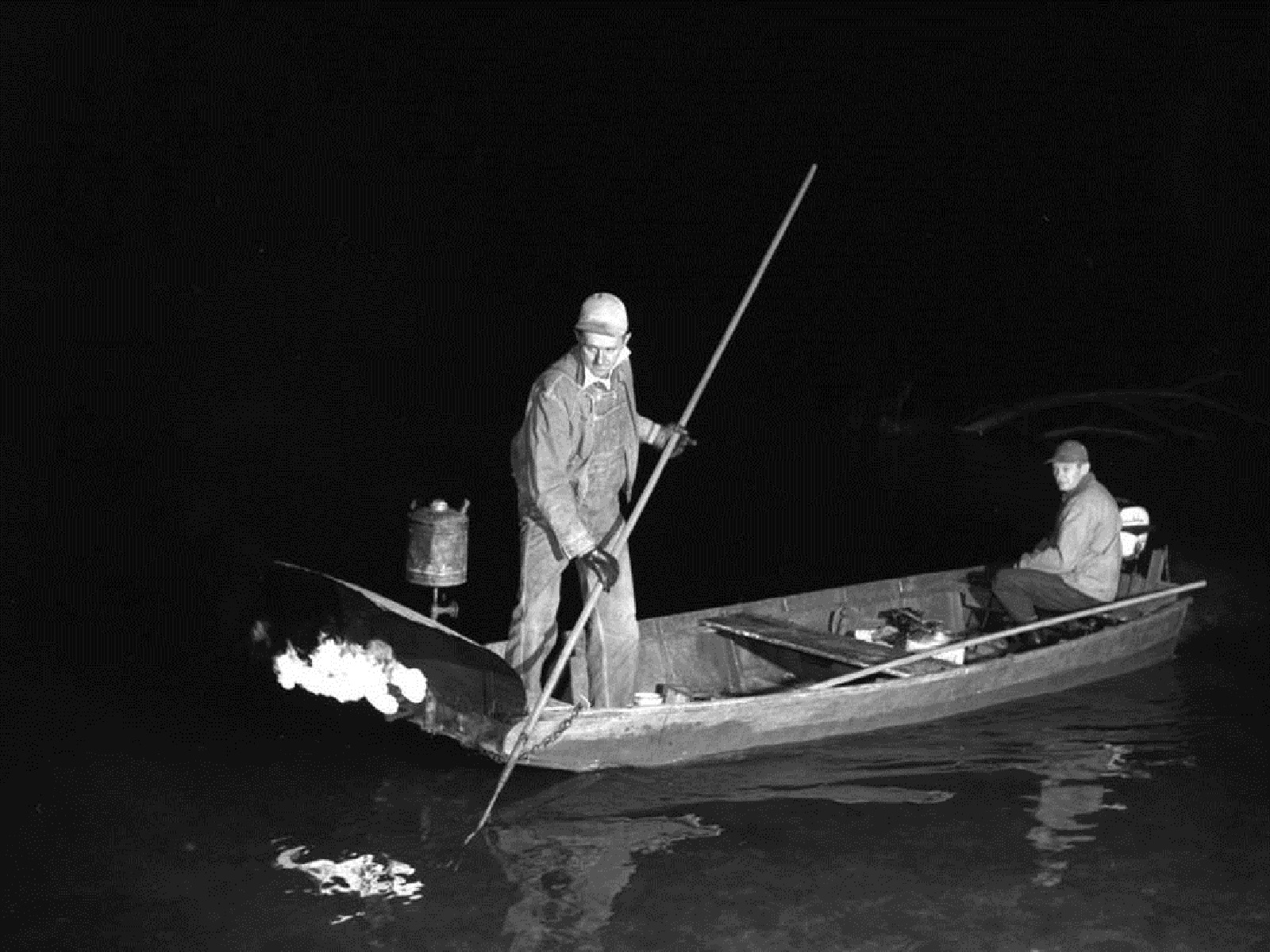 News Release Date:
October 12, 2016
Contact: Dave Tobey, 573-323-8093
EMINENCE, MO:  On Saturday, October 22, Ozark National Scenic Riverways will host an instructional gigging workshop at Round Spring in partnership with the Missouri Department of Conservation (MDC).  
The "Gigs and Ghosts" program will begin at 4:00 p.m.on the lower landing at Round Spring. National Park Service rangers and MDC staff invite everyone to gather around a gravel bar campfire for a historical program and instruction on gigging fish. The program will include an opportunity to gig fish on the Current River under the guidance of MDC Conservation Agents. All are welcome to attend this free program, but participants who want to try their hand at gigging should reserve a spot by contacting Ranger Dave Tobey at 573-323-8093 or e-mail us.
Fish gigging is a time honored tradition on the Current River. During evenings in the fall and early winter, it's common to see boats with generators and electric lights on the river. Seasoned gigging veterans of the area will tell you stories about gigging or "fire fishing" with pine torches and then graduating to incandescent gas lanterns prior to the use of electric lights.  

Rangers from Ozark National Scenic Riverways and members of the community will provide storytelling sessions around the campfire on the gravel bar for participants before and after their gigging session. No gigging trip would be complete without a gravel bar sucker fry. Specialists from Twin Pines Conservation Education Center will be on hand to provide a sample of this traditional Ozark delicacy to visitors. On Sunday, October 23, the Shannon County Museum will be open and visitors can learn more about this Ozark tradition.  

Participants should dress warmly, and come prepared for enjoying the river and gravel bar after dark. Flashlights and folding lawn chairs are recommended. All giggers should possess a valid Missouri fishing license. 
As part of the Centennial of the National Park Service in 2016 this opportunity is free, but space is limited. Be sure to contact Ranger Dave Tobey at 573-323-8093 or e-mail usto reserve a spot and receive additional information.  

For more information, visit the park's Facebook page,visit the park website at www.nps.gov/ozar, or phone (573) 323-4236.

Ozark National Scenic Riverways preserves the free-flowing Current and Jacks Fork Rivers, the surrounding resources, and the unique cultural heritage of the Ozark people.
 -NPS-
 About the National Park Service. More than 20,000 National Park Service employees care for America's 413 national parks and work with communities across the nation to help preserve local history and create close-to-home recreational opportunities. Visit us at www.nps.gov, on Facebook www.facebook.com/nationalparkservice, Twitter www.twitter.com/natlparkservice, and YouTube www.youtube.com/nationalparkservice.