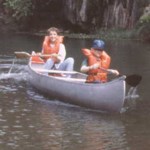 Park Service to Crack Down on River Rowdies
Ozark National Scenic Riverways is responding to rowdy behavior on the Current and Jacks Fork Rivers by cracking down on those whose misbehavior detracts from others' enjoyment of the area. "We intend to insure that the Ozark Riverways is a family friendly park with positive outdoor recreation opportunities for all visitors," former Superintendent Noel Poe said. "Public misbehavior that would never be tolerated on the streets of St. Louis or Kansas City will not be tolerated here either," he continued.
A new superintendent, Reed Detring, arrived at Ozark National Scenic Riverways in June of 2008. During travels throughout the area, going to meetings and talking with people who live and recreate on the rivers it was voiced by citizens over and over again how much the new style of visitor management on the rivers was appreciated. People from all walks of life echoed how they and their families were once again enjoying the river and feeling secure that they would be much less likely to encounter outrageous or offensive behavior. We feel that the action plan that has been implemented over the last four years is being successful in bringing a balance to the recreational opportunities afforded for all visitors.
Continuing into the 2009 season the plan to bring a balance to the use patterns on the riverways will continue. The plan will include the following rules and regulations that will be enforced by the law enforcement rangers as promulgated in the Superintendent's Compendium.
- Enforcement of no illegal drugs, public intoxication, minors in possession of alcohol, public nudity and disorderly conduct laws and regulations.
- All sizes of beer kegs, and all types of "beer bongs" or other volume drinking devices within the park boundary are prohibited. This will also include "Jell-O shots" or similar containers in which gelatin and alcohol are mixed.
- Excessively loud stereo systems that intrude on the areas enjoyment by family oriented groups will not be allowed. The rangers will be using audio decibel readers to enforce National Park Service regulations on noise. The use of air horns and other excessive noise producing devices will also not be allowed.
- Glass containers will not be allowed on the rivers within the park boundary and there will be active enforcement against the use of dry ice bombs.
- All forms of polystyrene foods and beverage coolers, often marketed under the name "Styrofoam," will not be allowed. These containers often end up in the rivers as unsightly trash that can also be dangerous to the aquatic life in the river. This does not include bait buckets.
Alcohol in moderation is not banned in the park. Rangers will be making a concerted effort this season to welcome visitors to the riverways and provide education and information about park regulations that will help our visitors to understand the importance of the resources. They will also be asking people to help us make this a safe and fun place for all to enjoy.
The rangers will also be working with our partner agencies Missouri Department of Conservation, Missouri Water Patrol, Missouri State Highway Patrol, and the Sheriff's departments of our surrounding counties to provide a safe and secure experience for all visitors to the riverways. If you should encounter any problems, record the watercraft number and report it to any ranger, to the above partner agencies, or to any canoe outfitter.
So, please come, bring your families and join us this next season in enjoying the outstanding beauty and natural wonder that makes Ozark National Scenic Riverways one of the most unique and compelling places in our great country.