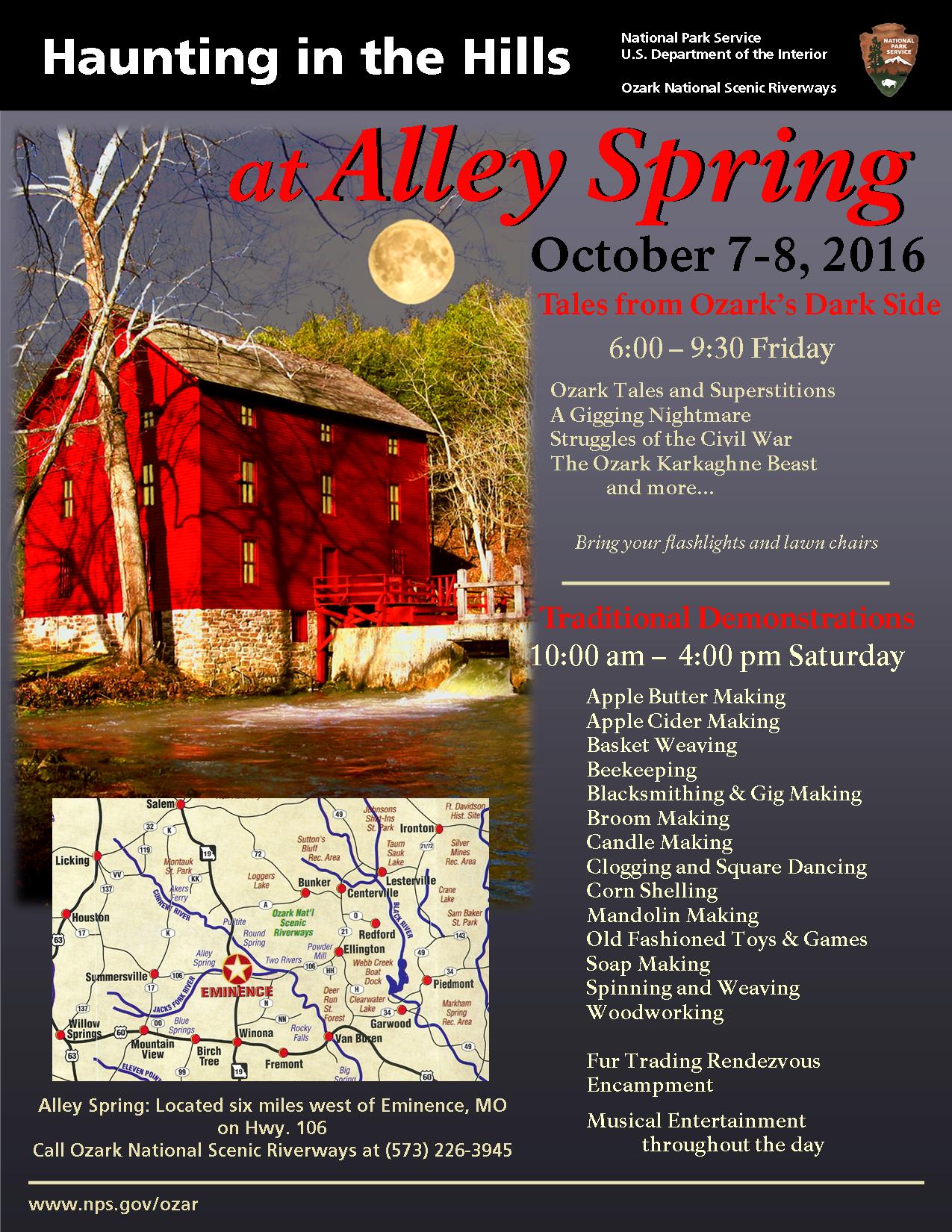 News Release Date:
September 29, 2016
Contact: Dena Matteson, 573-323-4814
EMINENCE, MO
–Ozark National Scenic Riverways will bring the Ozark past to life during the Haunting in the Hills event to be held Friday, October 7, and Saturday, October 8, at Alley Spring. Fall is a season for gathering together and Alley Spring has long been a gathering place for inhabitants of the Ozark hills. This free event features storytelling, folkway demonstrations, hands-on activities, food vendors, traditional dancing, and bluegrass music.
On Friday evening, October 7, spirits of the past will be brought to life through storytelling and skits from 6:00 to 9:30 p.m. Illuminated pathways will guide your way through Ozark legends, folktales, mysteries, superstitions, and natural wonders with spellbinding age-old storytelling. All storytelling sessions will run concurrently and will repeat every 30 minutes so that visitors can attend sessions in any order they choose. Several talented, well-known Missouri storytellers will be featured at the event. Hear stories of Native American Legends and Lore from accomplished storyteller Diane Moran of Richwoods. Be captivated with Ozark Tales and Superstitions as told by Champ Herren of Marshfield. Author Marideth Sisco will tell True Tales of the Haunted Ozarks. Ms. Sisco is known for her role in the acclaimed film Winter's Bone and radio broadcast "These Ozarks Hills", as well as her musical talents as a member of the Blackberry Winter band. 
Visitors are encouraged to bring along flashlights and folding lawn chairs. Tales and legends include: Native 
American Legends and Lore by Diane Moran 
True Tales of the Haunted Ozarks by Marideth Sisco 
Ozark Tales and Superstitions by Champ Herren 
Search for the Ozark Karkaghne Monster:A Hike to Find the Lurking Beast 
The Panther of Stegall Mountain 
 A Gigging Nightmare Dark Clouds Over Shannon County: A Pioneer Family's Struggles of the Civil War Herbert the Hellbender: A Youngster's River Journey 
On Saturday, October 8, local skilled crafts people will demonstrate from 10 a.m. to 4 p.m. Experience Ozark pioneer folkways and traditions such as basket making, weaving, spinning, wood carving, blacksmithing, chair caning and the making of household supplies of soap, candles, rope, brooms, apple butter, head cheese and hominy, and apple cider. Learn about Ozark natural and cultural history from local organizations. 
Traditional bluegrass music and dancing will be demonstrated throughout the day. Come enjoy the musical talents of That Dalton Gang, Jim Orchard and the Boys, and square dancing demonstrations by the Country Ho'Downers. Wear your dancing shoes and bring a blanket or lawn chair for the entertainment.  
Music and Dance Schedule: 
10:00 a.m. - Jim Orchard and the Boys 
11:00 a.m. - Country Ho'Downers Square Dancing 
12:00 p.m. - That Dalton Gang 
1:00 p.m. - Country Ho'Downers Square Dancing 
2:00 p.m. - Jim Orchard and the Boys 
3:00 p.m. - That Dalton Gang 
Young people can become Ozark pioneers by trying their hands at dipping candles, making rope, or shelling corn from the cob. Attend the one-room Storys Creek School and experience a school day from 100 years ago. Recess was a time for fun. Play with the toys and games that would have been enjoyed on the playground long, long ago. 
Alley Mill is located six miles west of Eminence, Missouri on State Highway 106. For more information, call (573) 226-3945 or (573) 323-4236;visit the park's Facebook page, or website at www.nps.gov/ozar. 
Ozark National Scenic Riverways preserves the free-flowing Current and Jacks Fork Rivers, the surrounding resources, and the unique cultural heritage of the Ozark people. 
-NPS-