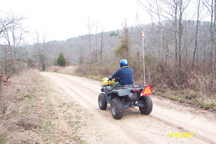 Within the Ozark Riverways, ATVs ("Four Wheelers") and UTVs ("Mules" and other utility vehicles) are prohibited:
Off established roads.
On any closed roads or trails.
On any park-owned roads.
On state highways.
On service roads, power line rights- of-way or campground roads.
In the river unless at designated crossings and then only to cross the river and continue on across.
On gravel bars or beaches.
ATVs and UTVs may be operated only on county-owned roads
. If the trail or route you are on is not passable in a full-sized pickup, you are probably on an illegal trail. ATVs are not allowed on park-owned roads. (Look for brown road signs, these designate park roads as contrasted with green county signs.)
A reminder: All ATVs /UTVs must have a Missouri State registration and a county permit to travel on county roads, the operator must have a valid driver's license, the operator cannot carry passengers on an ATV, persons under 18 years must wear an approved helmet, and the ATV must have adequate muffler, approved spark arrestor, slow-moving vehicle triangular emblem, safety flag at least 7 feet above the ground, operating brake system, and a headlight and taillight. No open alcohol containers allowed in either an ATV or UTV. (Missouri State law)
This is just a summary, for more details on ATV / UTV laws and regulations,
click here.