Volunteer Horse Patrol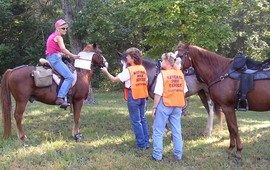 Like to ride? Want to help? Then our Volunteer Horse Patrol might be just the thing. You'll receive training and then be out there riding the trails, providing information to other trailriders, be available to help in emergencies and provide the "eyes and ears" for park rangers to keep everyone safe.
Here's the official Job Description:
Activities: Visitor Information; Conservation Education; Interpretation; General Assistance
Skills: Requires horse and trail riding experience. Applicants are required to pass an Equine Skills and Assessment ride. Must be in good physical condition and maintain a valid driver's license.
Compensation: Some Volunteer uniform items are provided. Accepted applicants will receive training, orientation to the park and the opportunity to enjoy the scenic trails of Ozark National Scenic Riverways open to horseback riding. There is no cash stipend.
Must own your own horse for patrol.
For more information or to apply, e-mail us.
"If a man fails to honor the rivers, he shall not gain the life from them." - (The Code of Hammurabi)
Last updated: December 18, 2017