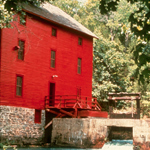 Alley Mill FAQ
Where's the wheel?
This is the most common question asked at Alley. The answer is that there never was a wheel! When the mill was built in 1894, wooden waterwheels were already obsolete. The mill has a water powered turbine under the back porch that operates all the machinery and is "original equipment." Alley History
---
But I remember a wheel!
Perhaps you are thinking of War Eagle Mill near Branson? It is very similar, bright red, three stories tall and in a parklike setting. It is older than Alley and has a picturesque wheel. Other old red mills have wheels as well, but unless you remember the first Alley Mill, which burned down in the early 1890s you haven't seen a wheel at Alley.
---
When is the Mill open?
The Alley Mill is open daily in the summertime, from Memorial Day to Labor Day weekends. Depending on our budget and staffing, the National Park Service tries to keep it open on weekends from about Easter to Memorial Day and on fall weekends through the Fall Color season. Call for exact dates: 573-226-3945
---
Who built the Alley Mill and when?
George Washington McCaskill built the mill in 1894. The small village around the mill was named for an early settler, John Alley, but he didn't own the mill. The mill was never very successful as a business and went through about a dozen owners, so many folks can claim family connections to this beautiful landmark. Alley History
---